I have the most creative post titles, don't I?
I think so.
Yup.
Anyways, do you guys have hair? I'm kind of hoping you do, because I could reeeeeeeeally use some help.
See, for the vast majority of my life I have had short hair. Like, pixie short.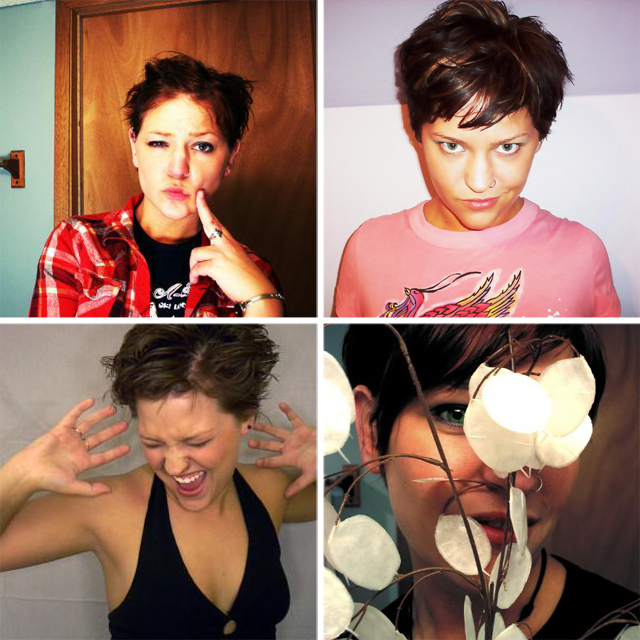 Seriously, I have NO IDEA what to do with my hair. The last time my hair was this long I was just five years old. Even a super basic braid from the nape of my neck is hard for me to accomplish. In fact, I have an entire pinterest board dedicated to all the things I would like to do with my long hair, but I don't know where to start!
I need some help you guys. I need the dish, the low-down, the secrets and the tricks to working with long hair.
Here is an idea of what's going on in my hair-world. This is my arsenal of products. And this is, literally, all that I am using right now.
1-2 Garnier Fructis Length & Strength Shampoo and Conditioner // 3 Comb // 4 Tigi Ionic Hairdryer // 5 Flat Iron // 6 Hair Wand
My hair is kind of medium thickness, and it frizzes like whoa when I blow dry it. My hair is also oily, so after the first day, I generally have to wear my bangs (or what remains of them, they are growing out) back or they get super stringy and gross. The back of my head is also a little on the flat side, which is annoying when I try to create volume (of course, I am most likely doing it wrong in the first place!), and if I let my hair air dry, it's very flat and boring and with a slight wave.
I need opinions and help. What is the:
Best shampoo and conditioner (from a store like Walmart or Target)
Best splurge product from a salon (like deep conditioning, or styling product)
Best styling products for my type of hair
Best styling tools for my hair
Best brush or comb or whatever?
Seriously, I need help with every step. Someone wanna come over and coach me?
Do you guys have any good tutorials stocked up? Good for baby beginners like moi? Please share!
I really need to make something of this mess on my head before I get so frustrated I cut it all off!