I'd tell you it's been a trying week.
Emotionally exhausting.
And it all started over Laney's third self-styled haircut.
Pretty sure she wants to be bald, that one.
I'd tell you how I cried over this place, and how I cried over my shop.
How hard I've been working and how much it's grown.
But I still can't help my family; I'm not bringing anything in.
I restarted my
sponsorship options
and even though they are super simple and cheap, no one is interested and I don't know why.
I'd tell you I know I shouldn't, but I kind of take it personally.
It makes me feel as though no one likes me.
Ugh.
Some things are just hard to talk about.
Chalking it up to crazy hormone surges, I'd shrug it off and tell you how much Afton loves school.
Adores school.
She seems to be blossoming before my very eyes into such a big, strong, independent girl.
I love it.
Then I'd ask how you were doing. Any challenges this week?
Triumphs?
I'd celebrate with you, pray with you.
Laugh and giggle and cry and hug.
I'd wish you didn't have to leave.
I love spending time with you.
I hope you'll come back for coffee again soon.
Today for my Five Things I want to share some of my favorite reads at the moment. I got this idea from Chelsea, and she cheered me on to do this, so I am going to start with her!
1. Sunny with a Chance of Sprinkles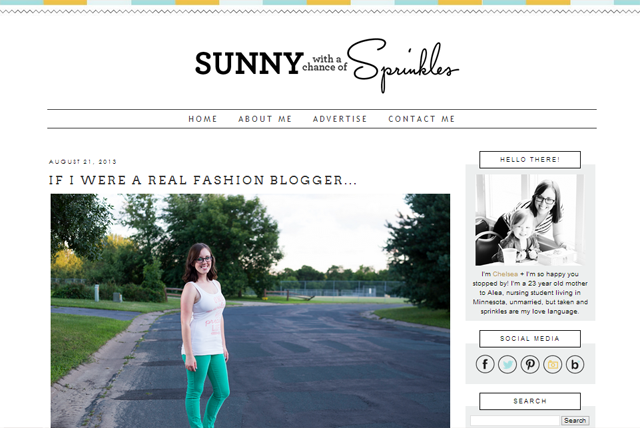 I just adore this girl. We've been blogger buddies for a couple of years now and I could never get tired of her. She's funny and she's real. And her daughter is the cutest little thing, seriously. My favorite posts are the ones where she digs down deep and talks about the serious issues for her. Like when she wrote
a letter to herself
and when she talked about
learning to dress for herself
.
2. Just Love.ly
Heather is such an amazingly talented woman. She has a big heart and a desire to help people and small businesses succeed and thrive. She inspires me on so many levels, and I know she would inspire you too. Her dwell series is pretty much awesome, by the way, so I recommend checking that out!
This is one of my newest finds, and I am absolutely in love with this blog. The way Sara writes makes me feel like I'm sitting right beside her, experiencing life with her. Her children as precious and primarily what she writes about. I love
this post
that chronicles the currents of her littles, and my heart just absolutely breaks into tiny pieces over
what happened to her daughter
. It makes me hold my girls tighter and thank God for the miracles He provides.
I always feel warm and happy and uplifted after visiting Kelly Ann's blog. She cares so so much about everyone and everything and it emanates from her words and her photos. She documents everything around her and a lot of her shots have this ethereal quality to them, dreamy almost. I wish I could describe this better, but I guess you'll have to go experience it for yourself. And if you're a woman, you should definitely read this post. It's pretty much amazing.
The Mermaid Chronicles is such a neat blog! I'm kind of jealous of Devon, out there living the life she's dreamed of, quitting that daily grind to pursue her love of surfing and writing. And this girl has traveled all over the place, which I am also jealous of, ha ha ha. I love how candid she is, and I definitely love her recipes, like
this one
and her
raw pad thai
.
Linking up here, here, here, here and here.