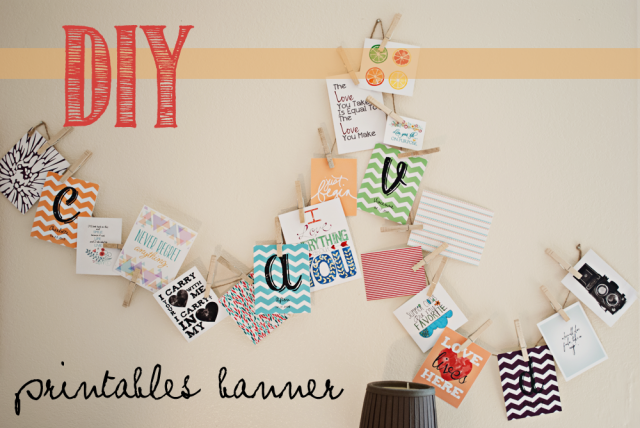 I'm sure for you crafty mavens out there that this will seem like the biggest no-brainer you've ever laid eyes on.
You very well may be right!
But, I did this and am posting it because it was so much fun, and because I didn't even think of doing it until I saw a photo of a room with a picture banner and thought OMG, I need to do this!
I want you to do it too.
DIY Printables Banner!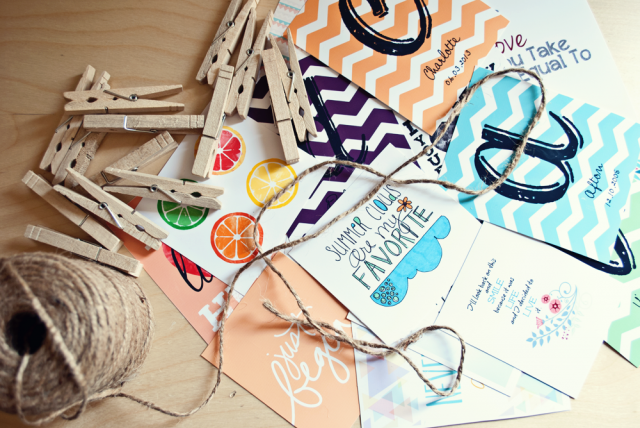 What you need:
Prints/printables
Scissors
Clothespins
Twine
Nails
Hammer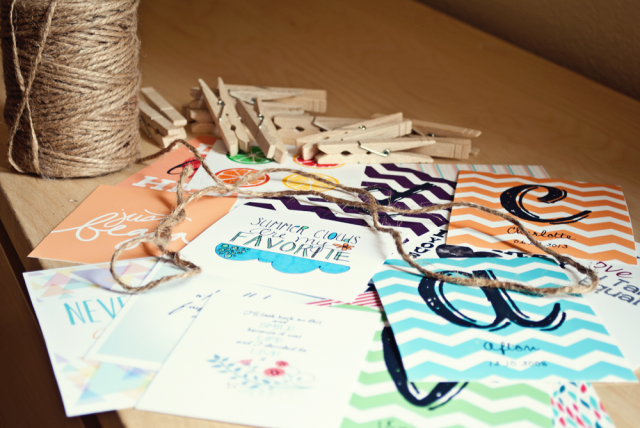 The first thing you want to do is print and cut those printables. If you want some cool printables, or want a closer look at the ones I used (and to give the people who created them some credit!), please click HERE and browse my printables board that I made just for this project.
Next, you are going to want to prep and post that first nail in the wall. I strongly recommend making a knot in the twine and then pushing the nail through it before hammering it into the wall. That way the twine won't fall apart when you start adding the weight of prints and clothespins.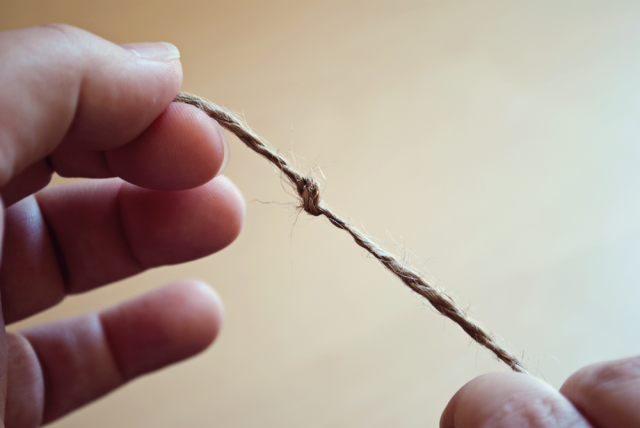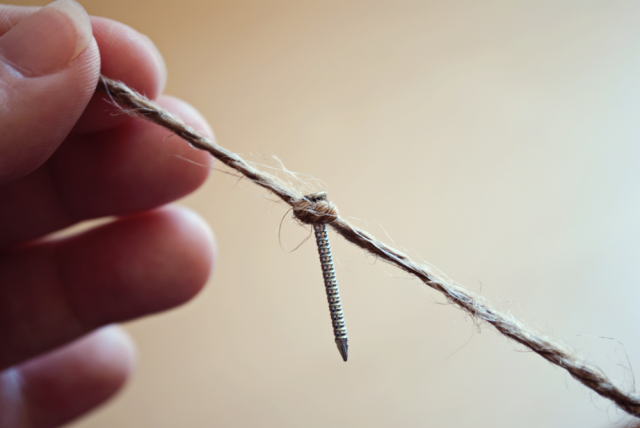 I like using finishing nails because they have a larger surface area, which makes it harder for the twine to slip off, and allows you to get a flusher finish against the wall.
After placing your first nail, you'll want to essentially drape the twine and move it around until you find the right dip for you. Does that make sense? If you have a roll of twine, you will want to pull on it quite a bit to stretch it out so you can be certain you aren't left with a drape that goes too low. Once you find the amount and spot you like, go ahead and tie another knot, push through another nail and hammer it to the wall.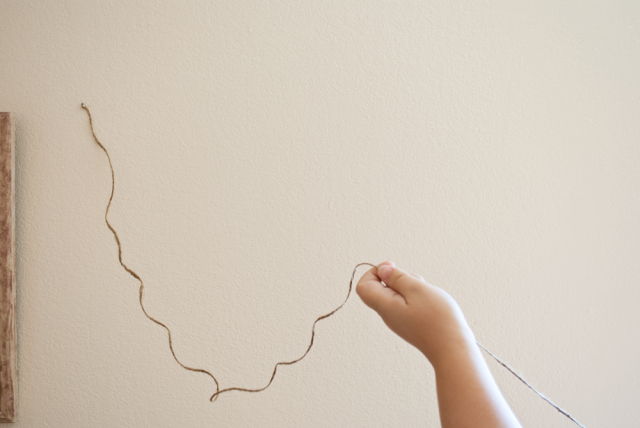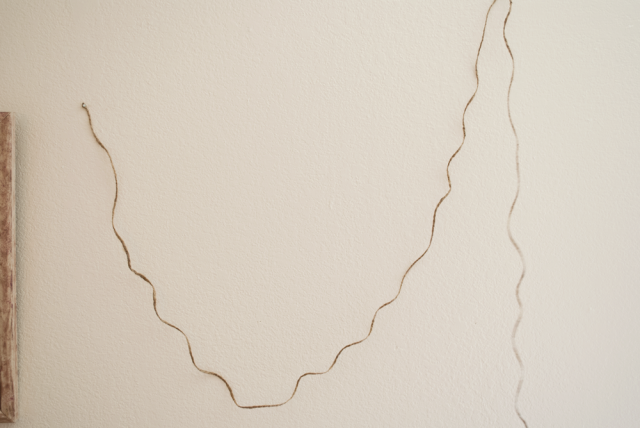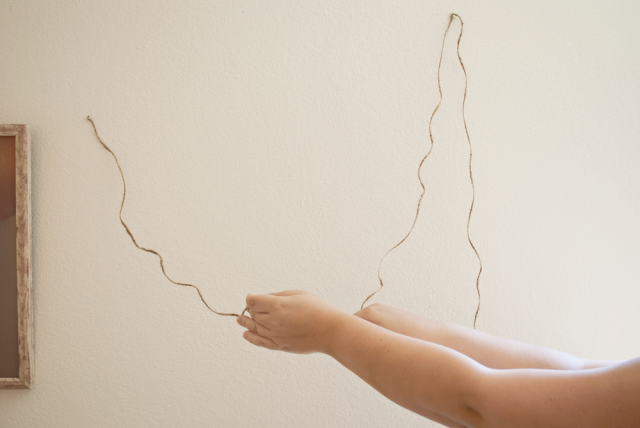 Repeat the process for as many drapes as you'd like. Once you've nailed up all the twine you want, start pinning up those prints!
Seriously, there is no trick to any of this. Just put them wherever you'd like!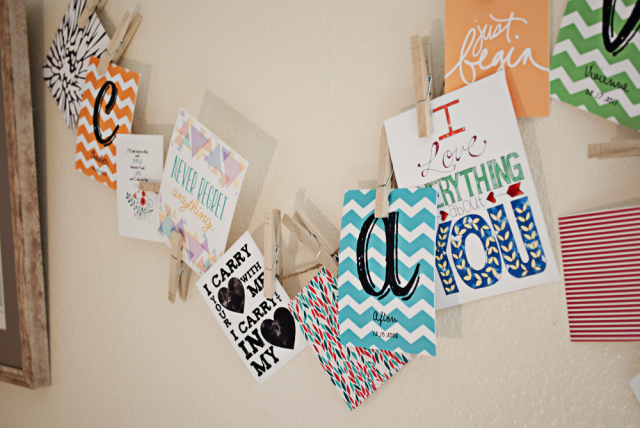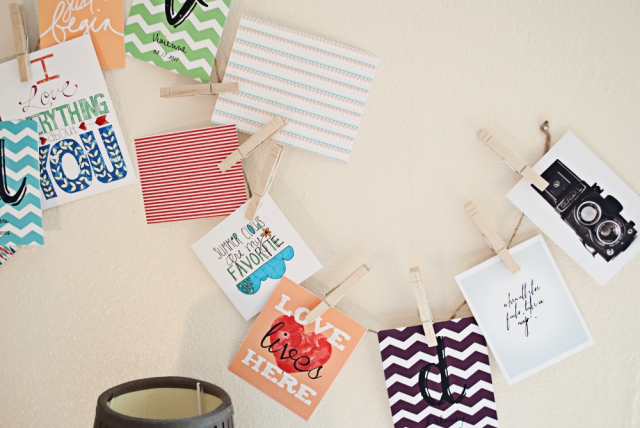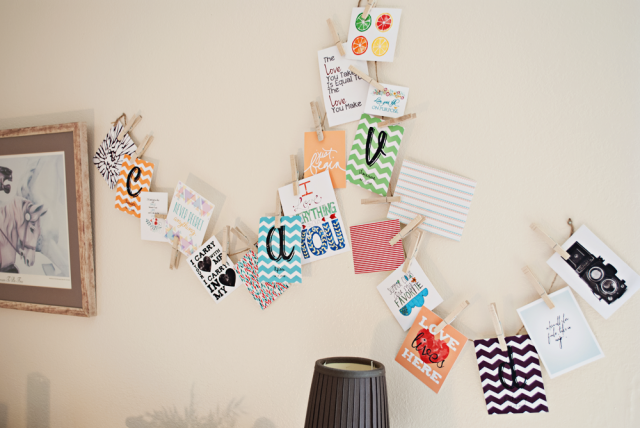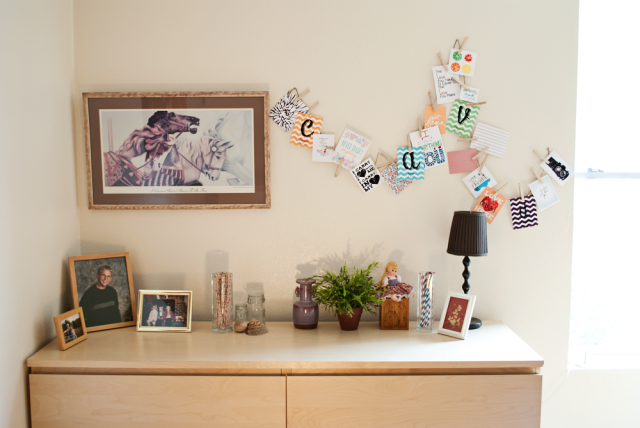 I spent a lot of time scouring the internet and pinterest for the perfect printables, so I hope you will check out all the great work I've showcased on my printables board.
And I'm sure you'll notice that I used a lot of my own works in the banner, and so I created a special deal for everyone! You can choose any combination of eight prints from my shop, customized as needed, and I will print them, cut them and send them to you for only $17! That's the same price as ONE full-sized 8×10 print!
You can check out that deal by clicking HERE.
I hope you enjoyed my little tutorial and weren't totally put off by how easy it is, ha ha ha.
If you really liked it, I do hope you will pin it and share it and spread the joy!
Because seriously, this project was a total blast for me, and I feel super accomplished to have completed something so…crafty!