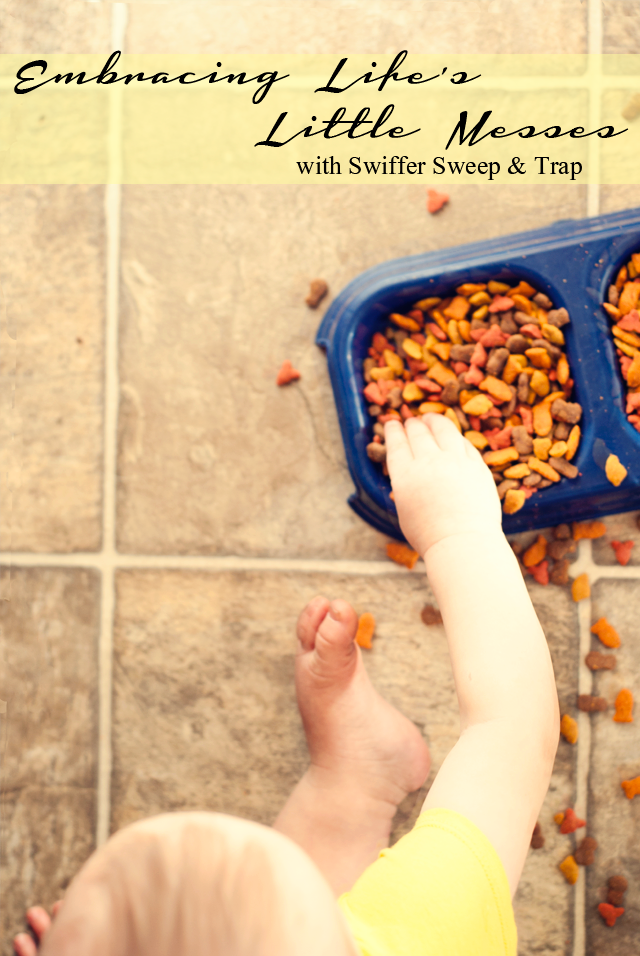 Many…many, many years ago, before I was married with children, I was just a girl without a care in the world.
Well, you know, beyond the need for money to pay rent and party.
Back then I didn't care if my place was clean, because no one ever came over and I was rarely there, even to sleep. I wasn't concerned with dirty laundry exploding out of my bathroom like it had come to life and gone all incredible hulk on my hallway. Dishes in the sink? I'll get to that later. Rotten food in the fridge? I'll just eat out. I didn't care and didn't have a reason to care.
Unfortunately I can't live like a slob with a family. I can't get to that later with little hands and mouths on every surface in the house.
As parents, we spend so much time baby-proofing: corner bumpers, plug protectors, door locks, and while ultra-sanitizing with every cleanser on the market, we run out of time to just enjoy being with our kids. Kids get dirty, kids get hurt, and it's just part of life. It's how we learn.
We're cat lovers in this house, and as such, there is a constant battle of wills between the kids and the cats over the cat food. All of them claim a stake on the food, the cats rightfully so, for obvious reasons, but every day the kitchen turns into a war zone as I try to fend off attack after attack by the overly aggressive Charli, who is determined to have her share of the food, come Hell or high water.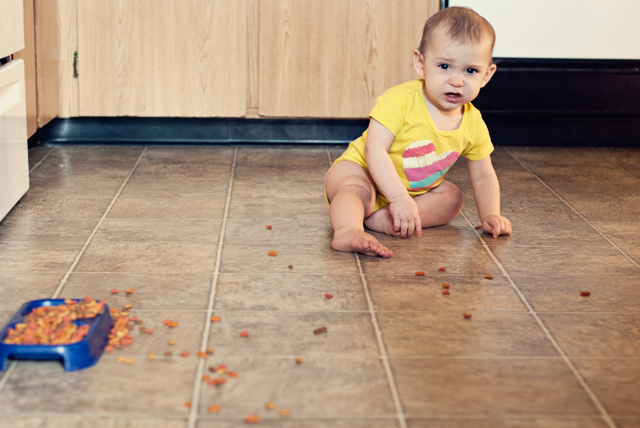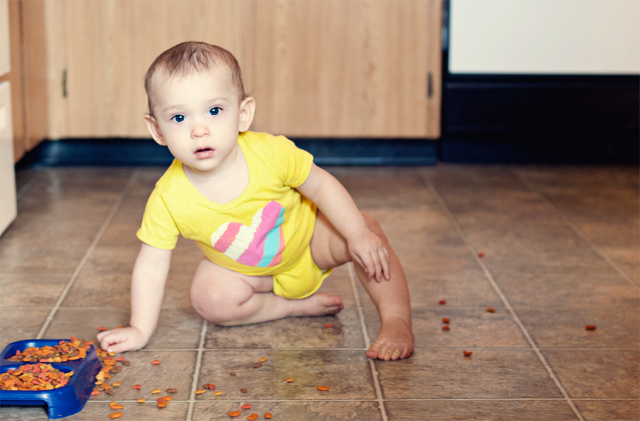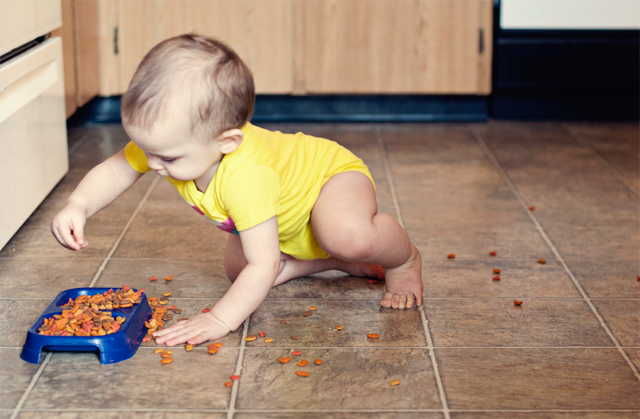 The mess annoys me every day. I always step on cat food and it stabs my feet and crushes into cat food dust. It's gross. I have to sweep it every day and I always end up with a fine layer of dirt left behind because a broom can only do so much.
Do any of you struggle with this problem?
Enter the new
Swiffer Sweep & Trap
. This little bad boy uses rotating blades to flick large particles into a bin while utilizing the same Swiffer Sweeper cloths we've grown to love to trap those little pieces of dirt, dust and hair that brooms inevitably leave behind.
I love that I no longer have to bend over to sweep dirt into a dustpan repeatedly in a vain attempt to get everything off the floor. The
Swiffer Sweep & Trap
 gets it all on the first swipe and it is so lightweight and easy to use that I can now employ my little mess-makers to clean with it.
Hilariously enough, they actually enjoy cleaning with it. You have no idea how many times I had to kick Afton out of the kitchen to take pictures of my dirty floor because she kept trying to clean it.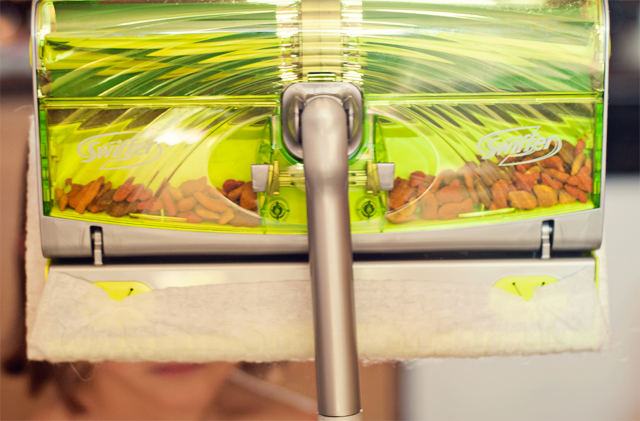 What I really like is that the large debris is separate from all the small dust and dirt particles, so when I'm cleaning up the loose cat food, I can easily pour it right back into the cat dish because I'm not pushing things like dust into the bin with it; it's getting picked up by the cloth instead!
Now my floors go from this: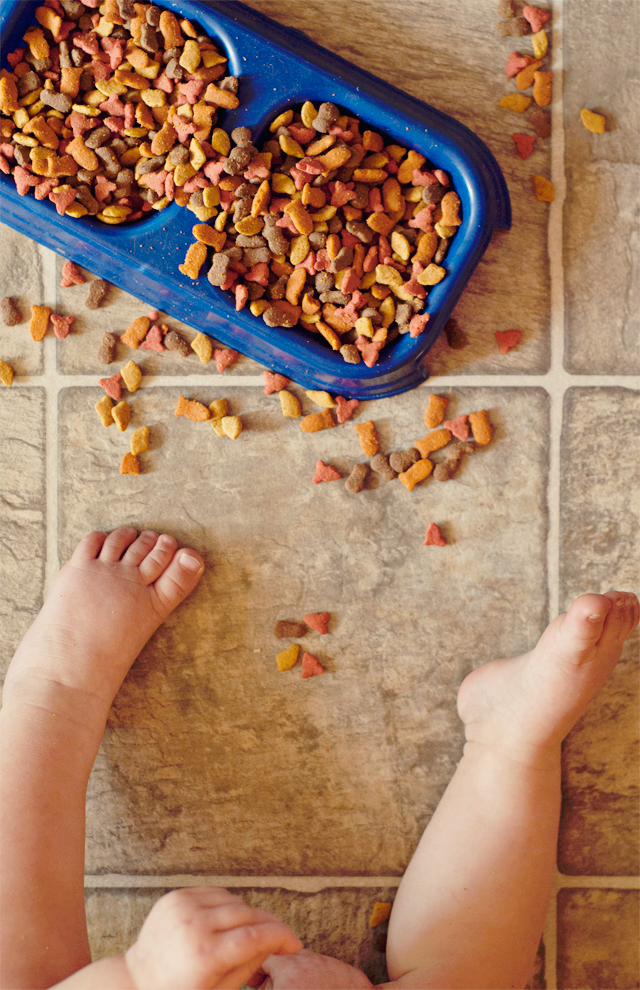 To this:
In 30 seconds instead of 30 minutes.
Embrace life's little messes and spend more time playing, instead of cleaning.
The Swiffer Sweep & Trap is new at Target (holla!) and if you head over to Target.com and use the code TGTBBAGU you can get $2 off the starter kit. Do it quickly though, the coupon is only good through the 28th!
I was selected for this opportunity as a member of Clever Girls Collective and the content and opinions expressed here are all my own.