Who doesn't love a good GIF? I know I love them, which is why I make them!
After posting the below GIF of me being a complete dork-which is totally normal for me, by the way-I received many requests for a tutorial post on how to make one.
Challenge accepted!
In all honesty, making a GIF in photoshop is pretty simple, but it can seem daunting to someone who is unfamiliar with photoshop and all the power it possesses. I promise, once you make your first GIF, you will be a GIF-making expert.
I'm laying out this tutorial as simply as possible, and very step-by-step. There are tons of shortcuts out there, like actions and batch processing, but I don't want to confuse anyone, so I'm taking a very basic route to hopefully accommodate all levels of proficiency here.
Shall we get started?
By now you probably have a series of photos in mind that you would like to use for a GIF. Go ahead and open all of those files in photoshop, and make any edits you need to before we proceed. I recommend not going too crazy with the edits, because replicating them in every single photo can become time-consuming and annoying. In my pics I just erased a photobombing pimple from my chin. It had no right to be there!
Once you've done any edits you want to do, it's time to resize and save those photos.
Go to Image > Image Size
From there you can see what your regular image size is. Mine is 3872×2592 with a 240 dpi. This is far too big and high res for the internet, let alone a GIF, so we need to fix that.
You will want to change the resolution first, because it automatically affects the image size. 72 dpi is perfect for the web, so I changed my resolution from 240 to 72. After that I went ahead and adjusted my image size to what I normally display on my blog, which is 640 px wide. The height auto adjusts to keep proportions, so you shouldn't need to fiddle with that. Save your photos as JPEGs.
I recommend saving all the photos you plan on using in a separate folder, and to keep the file names in order. It will make your life a lot easier. I didn't even bother changing them from what the camera issued.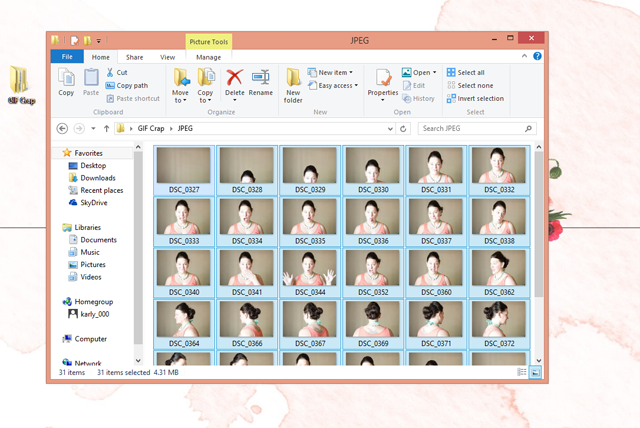 I give my folders great names, don't I?
Next, open up a brand new file in photoshop, using the exact dimensions of your edited photos.
My photos are 640×428 with a resolution of 72, so that's how I made my new document.
Once your document is open, go over to your folder with all the photos for your GIF.
Press ctrl+A and it should highlight all of your photos in the folder.
While still holding the ctrl button, use your mouse to drag the photos over to photoshop, releasing your mouse once it's over the blank canvas.
You should immediately see the first photo pop up on the canvas with a lined X through it. Hit the enter key and you should see the next photo appear. You will also see little thumbnails of the photos over in the right layers bar. Keep hitting enter until all the photos have appeared.
From here, it's time to get that GIF going.
Go to Window > Animation and click on that.
A bar will appear below your photo with one tile present.
There is a menu bar all the way on the right side of the animation window. If you click on that, there is a ton of useful tools there. Right now we want to click Make Frames From Layers.
You should now see all your photos lined up in the order you want your GIF to appear.
If you find there are extra frames you don't want or need, click on the individual frame, go back to the menu bar and choose Delete Frame. I use that function to get rid of the very first, white background tile from when I created my new file.
In that same menu bar there is a Select All Frames function. Click on that to highlight all of the frames in the animation bar. Then right click on the little arrow by the 0 sec. timer. This will bring up a list of times that you can use for the animation. It dictates how long each frame is shown in the series. For my GIF, I used 0.2 seconds. You can play around with these until you get the speed you like.
Also, be sure to have it set to Forever as the looping option.
At this point, your GIF is pretty much ready to go! But first, we have to save it properly.
Go to File > Save for Web & Devices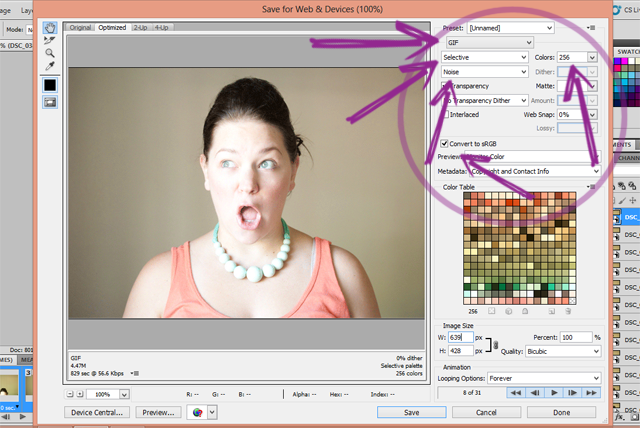 From here you want to set it to GIF. It will look really crazy at first, so please don't be alarmed!
Now we change the settings and it should make your GIF look much better.
Change the colors to the maximum 256.
Then change the GIF settings to Selective and the dithering to Noise.
Yes, the GIF will have a slightly grainy appearance, that is normal. The resizing I showed you in the beginning will help to reduce the grain dramatically. Other tricks to reducing the grain are using photos will few colors
(because GIFs are very color restrictive, so the more colors there are, the grainier it will be)
, and using fewer photos in the GIF
(because the larger the file size total, the more grain that will be present)
.
Also, be sure the Convert to sRGB box is checked. It will ensure the GIF colors look better via the internet.
Save your GIF to whatever folder you'd like, upload to the internet and start sharing!
If you have any questions, or if you feel I missed something, please let me know!