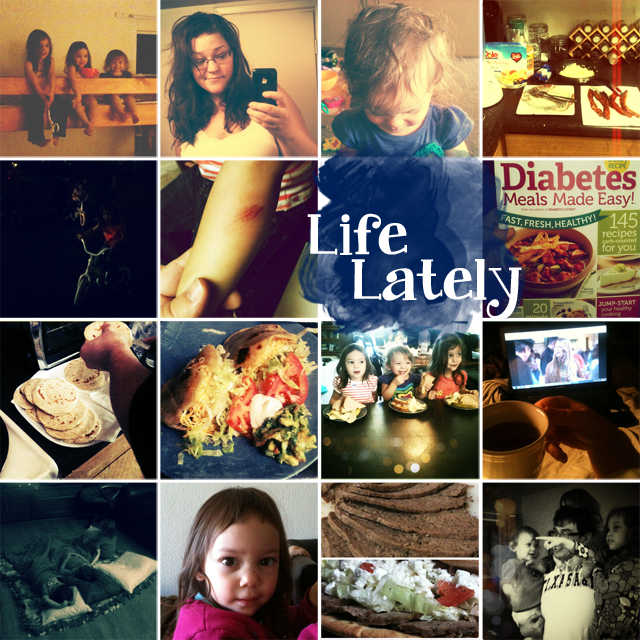 I am pretty certain I lead a very boring life, since it seems to revolve entirely around the kids and food, ha.
The girls bunked up top in their room to watch some Mulan before bed, which was exceedingly cute because they can usually be found on the floor beating each other up with some toy or another.
I shared my hair woes with everyone, cause it's a work in progress, and it's been warm enough lately that Vivienne even woke up with sweaty baby bed head!
Supermom was in action, whipping up a balanced, nutritious breakfast of scrambled egg beaters, bacon, organic oatmeal bars and fruit smoothies. It gave the girls enough energy to stay up late and learn to peddle their bikes without assistance, though Laney did experience some Man Down syndrome. What a trouper.
Although Rudy picked up a mag full of delicious diabetic recipes for my diabetic self, we set out on a mission to make homemade gorditas. Seriously, you guys, they were thebombdotcom and reminded me of living in San Antonio. I missed those little fatties and can't wait to eat some more!
When I had a day full of long doctor appointments, Rudy had a Daddy/Daughter day with the girls, complete with sandwiches, chips, pickles and smiles. By the end of the day I was content to just relax in bed with a cup of Sleepytime Tea and some Gossip Girl on Netflix.
The girls love hanging out at their great-grandma's because she builds them little nests so they can watch Spongebob.
Delaney got to my scissors one morning and played stylist on her bangs. sigh. That was a couple of weeks ago, but her bangs still look pretty mangled!
Rudy and I made homemade gyros the other week and I honestly wasn't expecting the ingredient list I needed to make them. BUT! They were freakin' delish and I look forward to making them again. When we were stuffed and ready to die Rudy got up with the girls to cheer on their football team to a big win!
So, that's been my life lately. How has you life been?
Linking up with The Weekend File and Life on LeRoy.