Thank you, FabKids, for sponsoring this post.
I love to visit other blogs and view their fashion challenges.
I think I like them because I am so terrible at creating my own fashions. I swear I wear the same clothes, without fail, every single week. I have no wardrobe, it's sad.
If there is one thing I do well with, however, it's fashion for my kids.
I accepted a fashion challenge that involved creating five different looks centering around a single item. In this case, I chose a cute polka-dotted shirt with a cool pineapple applique on it. Tres chic, I tell you.
My model for this challenge: Vivienne.
A few fun facts about Vivienne:
1| Vivienne is like a human garbage disposal. She will eat anything and everything, including whatever she finds on the floor. She has to have a steel stomach, there's no other way.
2| Her legs and feet from the knees down are twisted, with the right being more severe than the left. It makes wearing shoes like the sparkly ones in these photos a challenge, because her right foot doesn't fit easily into them, and pops out frequently.
3| Vivienne has an "s" lisp just like I did growing up.
4| She tolerates her baby sister, but only a little. When she gets fed up with Charli, she'll yell "come get this child!", in which child sounds more like chai-yold. She especially doesn't like Charli to touch her when she's on the couch.
5| Vivienne earned the nickname Child of the Corn because she used to decapitate and then dismember barbie dolls. She would then run around, sucking on the neck-stump of the headless, limbless dolls.
Sporting a pineapple like a queen, she definitely rocked her looks with her unique charm and her silly personality.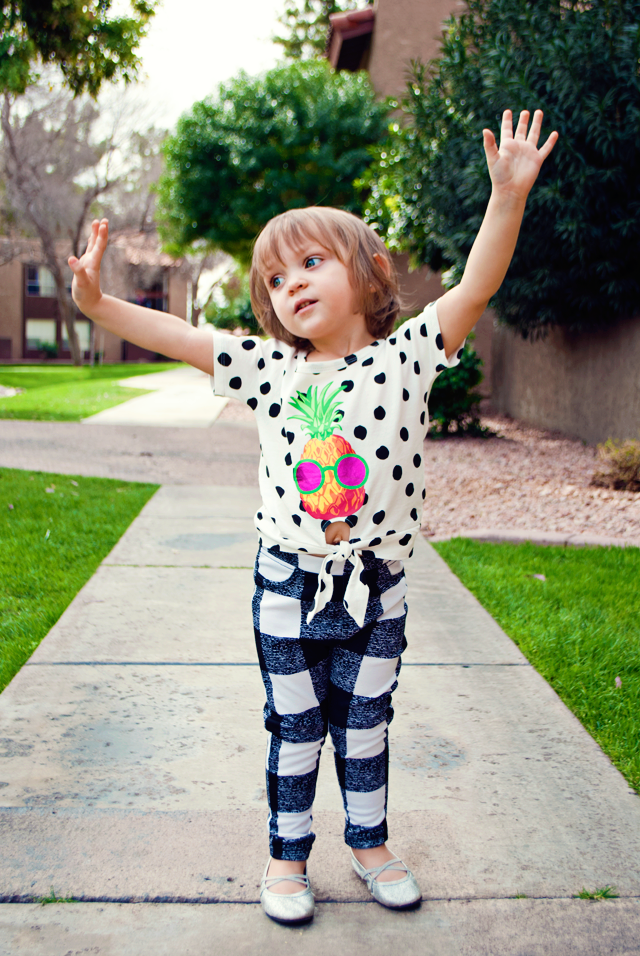 What I love about these looks is that they can all be created by mixing and matching pieces from the FabKids
Tutti Fruity
Spring Fashions. Choose any combination of pieces and get a big discount, or choose any two-piece outfit set for only $29.95.
I really like having the option to select my own styles, and as you can see, there are definitely a lot of choices available.
This expression is lovingly referred to as Vivi's "Child of the Corn" look.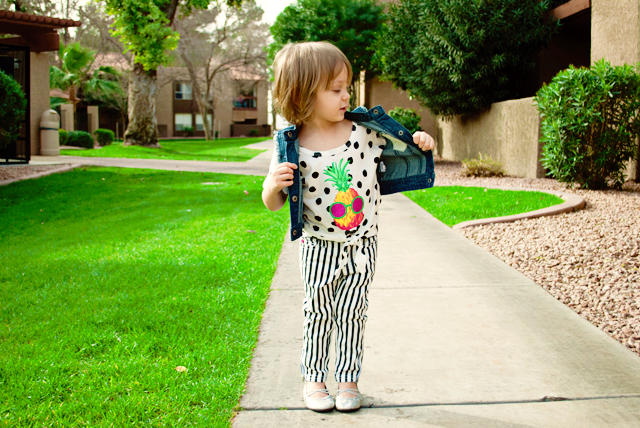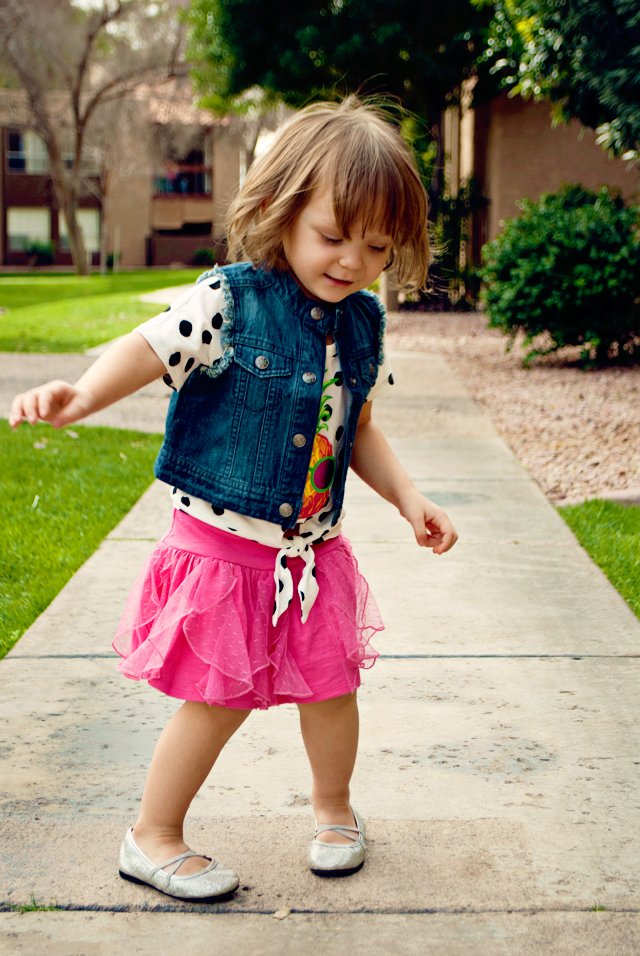 She has a bit of a Rockabilly edge with those striped skinny jeans and frayed jean jacket, am I right?
If you join FabKids today, you'll enjoy the perks of 50%, which is pretty freaking awesome!
Which outfit combo is your favorite? What outfit would you most like to create?


I was provided the above outfits as an ambassador for FabKids at no cost to me. All opinions are my 100% my own.