I wasn't going to do this, but I've seen it on…five blogs now, so I'll go ahead and be a follower.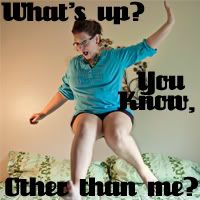 B. Bed Size: King, and I'm freaking in love with the extra room.  

I'm a flailer, kicker, and roller

.
C. Chore that you hate: Cleaning the kitchen and cleaning the cat box.
D. Dogs:
I used to have a dog named Peanut.  I miss her and hope she is living in a good home.  

Now I have  two, no eleven, no four, cats

.
E. Essential start to your day: Peeing and weighing myself.
F. Favorite color: Red and blue and green and black and…
G. Gold or Silver: Silver
H. Height: 5'5″, I've gained about 1/2″ through my three pregnancies, but also

1.5 shoe sizes

.  Lame.
I. Instruments you play: I've played the violin since 3rd grade, and I love it.
J. Job title: Work at Home Mom.
K. Kids:

Afton 2yrs 9mo.; Delaney 1yr 4mo.; Vivienne 4mo.
L. Live:
In the ghetto of Phoenix, AZ
N. Nicknames: Karls, Claire (hubs calls me that, it's my middle name), Karly Eclaire, Karly Claire the Chocolately Bear, Chica Blanca,

Hey You
O. Overnight hospital stays: One week for Afton's birth, three days for Delaney's, three for Vivienne's, and another four the pneumonia I got after Vivienne's birth.
P. Pet peeves: People parking in my damn parking spot right in front of my door! And people who lack basic grammar and spelling capabilities.
Q. Quote from a movie: "I want to be on you." -Anchorman
R. Right or left handed: Right handed.
S. Siblings: Nick, younger brother by

14 months

.
U. Underwear: Something that fits well and doesn't irritate my c-section scar.
V. Vegetable you hate: Mushrooms
W. What makes you run late: My husband. He's SLOW.
X. X-Rays you've had: I've had tons of chest x-rays, an x-ray on my finger that I cut off (like you need an x-ray for that?) and of course dental x-rays.  And I've had abdominal CTs, chest CTs and an MRI of my head, which was super cool.
Y. Yummy food that you make: Balsmic-glazed beef short ribs ala Campiello.
Take a moment to check out my new shop!