Lately, I've been thinking a lot about Afton's birth.  If you'd like to read the whole story, click HERE (which reminds me I need to update it to include Vivienne's birth, slackerslacker).
How crazy the whole experience was.  Gaining ten bazillion pounds, struggling with uncontrollable diabetes, developing preeclampsia, living seven miles out in the country during a nasty winter..it seemed like a lot of forces were out to get me.  How could such a tiny being make such a mess out of my body?
After laying in the hospital for three days trying to be induced, I swelled up like a beached whale.  I couldn't make a fist, flex my ankles and feet and had to wear a breathing mask because I wasn't taking in enough oxygen anymore (note the purple lips).
But then I met her.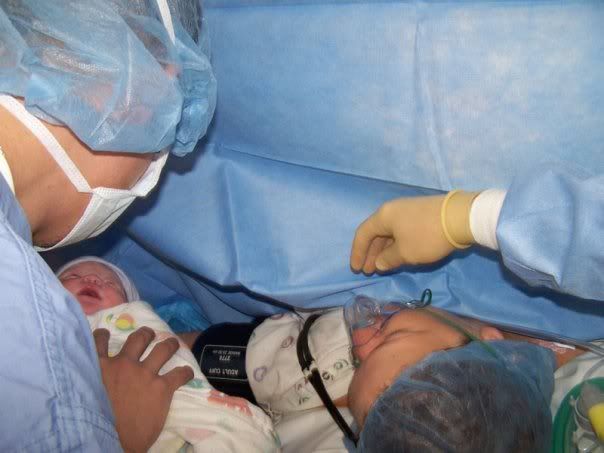 After the scariest emergency C-section experience I never could have imagined, I finally got to see what all that work and pain was for.  And instantly,
all the pain melted away.
 She was perfect.  She was mine.  
She was me.
And an hour later, after four nurses failed at starting a new IV and an anesthesiologist had to do it with the use of a weird vein-finding light, I was able to start spreading the news.
This is my John Goodman impression.  Also, where my IV is, is just a terrible place to have an IV.  But it was the ONLY place they could find a vein.  I was thankful that there was nothing usable on my feet, because they definitely looked there.  I get the heeby-geebies just thinking about it!
Rudy and Mom were instantly smitten.  And Mom finally calmed down after finding out that I was OK, and not dead.  Rudy helped a lot with that, by taking her outside for a smoke before the c-section.  There is something about screaming "Mommy, mommy!" over and over again while in agonizing, uncontrollable and confusing pain that gets to a person.  Dunno why, man.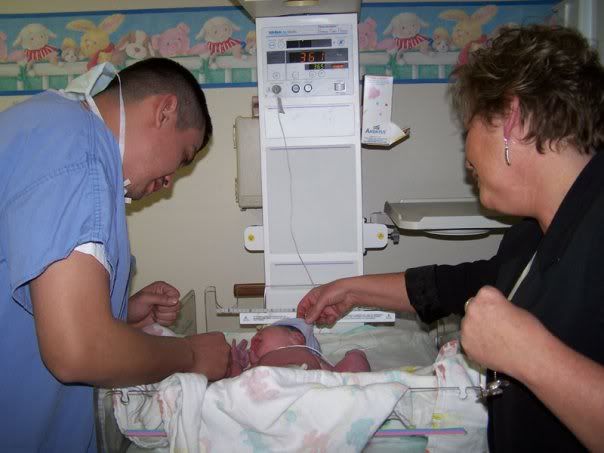 And now my baby girl, my big sister, my good helper, is turning three.  And all I can think about is this…
This is a photo for the
boyfriends!