Disclaimer: A copy of My Memories Suite was given to me for review.  All opinions expressed in the following post are 100% mine.
I was super excited when I found out I had the opportunity to try out
My Memories Suite
and give a copy away to one lucky winner.
Years ago I had tried traditional scrapbooking and I'll tell you that I was horrible at it!  I really wanted to be a scrapbooker because, seriously, how cute do scrapbooks look?  Some people do really amazing jobs with them, and I wanted to be part of that awesomeness.  But I failed, and put the whole concept on the back-burner.
The software is really easy to work with and comes with a bunch of pre-loaded templates, as well as papers and embellishments that can be used to create almost any look.  Here is an example of some work created solely with the pre-loaded templates.
With the template designs, you can move around pretty much every element, and inserting photos is a breeze. It even gives you the option between manually inserting photos and choosing photos up front that automatically fill in each available photo-slot.  I used the pre-fill for the above design.
For those whose spirits soar with creativity, you can also make albums completely from scratch!  Here is an example of a page I made just off the top of my head:
Too cute, huh?  All the elements used came from the software itself, and the font is one I already had loaded on my computer.  There are definitely tons of options, though.  
My Memories
has a whole host of downloads available, as well as freebies, so you can be certain that updated looks are always available.  I downloaded a few elements and even some
"quickpages"
.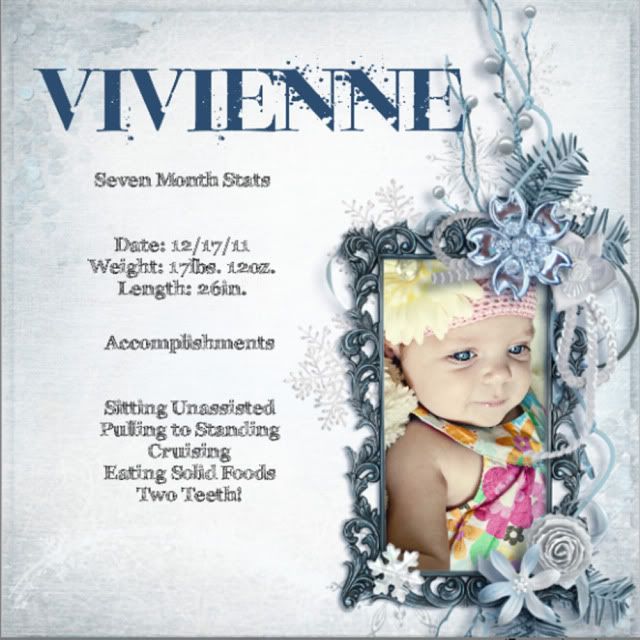 The biggest difference between quickpages and normal album pages is that all the elements are fixed, so you have to like the layout the way it is already.  Then simply insert your photo and add any text you'd like and voila!
Here is another quickpage I finished:
The only thing I had an issue with was that I couldn't figure out how to save the pages in any other format besides the My Memories Suite format (MMS) and ISO for CD/DVD burning.  So the images you see above are actually screenshots of the created pages.  Most (if not all) of the downloads have the option to download in Photoshop formats, which is pretty cool and I may try working with that next to see what the difference is.  I'm sure it's not nearly as simple to work with as My Memories Suite, because the templates are of course created to be used with MMS.
All in all, I think the software is great and I plan on making some cool little books that I can send out to my husband's family and other family members we don't get to see as often.  Maybe even my brother, because he loves to show off his nieces to prospective girlfriends, eh heh heh.
So now that you've heard how awesome
My Memory Suites
is, how would you like to win your own copy??
Cool!
Giveaway ends 01/10/2012 and the winner will be notified via email as well as displayed on my blog.  Good luck everyone!