I originally found this at Delirious Rhapsody's blog, and as hers is ending today, I thought What the hell? I'll do it too!
The purpose of Sunday Confessional is to reveal 100 truths about yourself, spread over 10 weeks.  Pretty simple and should be a lot of fun.  If you want to join in, I totally encourage it, and send me your links so I can see yours!
Here we go…
1.
 My arms are crooked.  What?  Seriously, my arms are
crooked.
 If I hold my arms straight out to each side, they bow downwards.  When I was in Basic, the instructors use to yell at me
ALL THE TIME
because they thought I was retarded and unable to follow simple instructions.  It wasn't until one of them physically tried to straighten my arms that it was discovered I am
not
an idiot.
2.  I love corn on the cob.  Love it.  But I cannot eat it correctly to save my life.  Apparently I am physically unable to remove the corn completely from the cob with my teeth, and as such, mutilate the poor innocent corn cob.  I don't know how I learned to eat corn that way, but I've never figured out how to do it correctly.
3.  
When I was in 1st grade, my best friend and I were part of a little gymnastics group that was run by her older sister.  When we went to competition, I was so ready to rock it, but my balance beam routine was a little
"safe",
when I watched the other girls doing their routines.  When my turn finally came, I added a roll that was not previously part of my routine and ended up taking
1st Place!
 I never did gymnastics again, and it's a wonder that I was ever able to do it in the first place, because I have
zero flexibility.
 I can't even touch my toes, folks!
4.  Watching people play video games is almost more fun than actually playing the games myself.  One, because I learn how to do everything and then zip through the game in no time flat, and two, because the funniest crap happens when I'm not playing.  Like when Rudy was playing Madden Football and his player miraculously tackled himself in the middle of a play.  Omg, I think I laughed for an entire hour.
5.  I hate all seafood.  I give people mean looks when they question my dislike for seafood by asking "even shrimp?", because of course I dislike shrimp, it's seafood too!  While working in the service industry, I learned to stop telling customers I didn't like seafood and just say I was allergic.  No more questions!
6.  When I was five, I fell into a window-well and hurt myself.  I reached up to my face and when I pulled my hand away it was covered in blood, so of course I started screaming for Mom.  Mom came outside and freaked out because my head was bleeding, but I was freaking out because my hand was bleeding.  Except my hand was obviously not bleeding.  That was a fun trip to the ER.
7.  I am a nose picker.  Not just my own nose, though.  If I see anything in my kids noses, I just HAVE to pick it.  But no, I am not a nose-picker-eater.  That's just gross.
8.  
It once took me
seven years
to figure out I'd been shocked by an electric fence.  The revelation occurred in the middle of a grocery store.  Brain damage much?
9.  When my bro and I were younger we had the coolest trampoline ever.  I loved to jump on it, but soon learned that jumping on a trampoline did not agree with my bladder.  I was always super embarrassed when I leaked and would often try to hide the fact that I'd had an accident.  Now it just seems dumb, because I pee everytime I cough, sneeze, or laugh too hard.  Thanks, kiddos.
10.  
The
second time
I had chicken pox was while I was in 1st grade.  I remember one night vividly: I was so itchy and I thought I had bug bites, so I went to Dad to have him scratch my back to death.  He, of course, didn't think anything of it, even though my brother had just come down with the pox himself, so he itched my back and sent me on my way.  The next day at school I felt like a big bag of ass but my teacher didn't believe I was sick because my forehead didn't feel hot.  After about an hour of coaxing her into letting me go to the nurse, it was discovered
I had a 103 degree temperature.
 Mom walked in and immediately lifted my shirt, which caused everyone in the office to jump away from now uncovered pox.  It was a pretty miserable experience.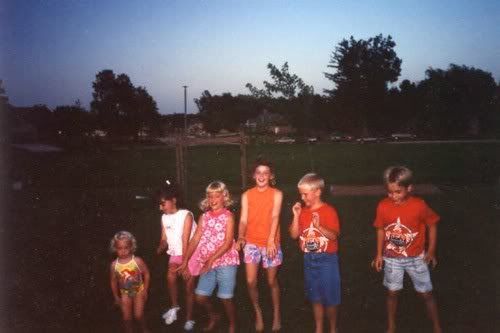 Doin the Macarena in our backyard.  I'm the blonde in the pink shirt and jean shorts.
Join me next Sunday for more confessions!