Ready for some more confessions?  If you missed Part I, you can check it out HERE!
11. Genetics and antiviral medications has allowed for me to have bad teeth.  I am crazy with my oral hygiene, but I still have cavities in every.single.tooth, including my front teeth!  Plus, I've had two teeth removed because they died and hollowed out.  Sad.
12.
Now, I already mentioned that I had chicken pox twice, but I didn't mention that I've also had
shingles
twice.  Apparently immunity to that strain of herpes is not my strong suit.  I even had shingles on my wedding day, in a visible spot, ugh.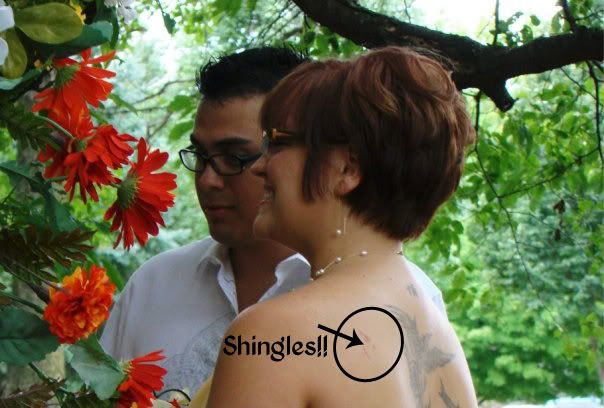 13. When I was younger, my family would take trips to Florida from Minnesota by van.  I always loved those trips, but the best part was while driving, my brother and I would see how many Waffle Houses we could spot along the way.  Yes, that's right, Waffle Houses.  I can't tell you why that was such an exciting thing to look for, but it was.  And when I finally convinced my parents to stop at a Waffle House, the only thing I ate was a small salad and hot chocolate.  Weird much?
14. Once upon a time I was sitting at the kitchen table with Mom and Nick and we were listing the different zodiac signs.  I had them all down, until I accidentally referred to Pisces as "Feces".  In the same way I never lived down the Geraldo's hair thing, my brother still enjoys bringing up my zodiac mishap.  Sorry, Sarah!
15. I love stuffed animals, I always have.  Even after I went off to college, I still kept a couple stuffed animals with me.  My favorite became this little kitty that looked so much like our cat, Salem, and one day when I was returning to Minnesota from New Mexico, I accidentally left the kitty in the hotel room I was staying in.  I was crushed!  But a couple days later I called the hotel and amazingly enough they had my kitty still and they actually mailed it back to me!
16. I've worn glasses 24/7 since I was in 6th grade, so I've developed a keen eyewear fashion sense.  My most favoritest pair of glasses ever were rimless and super light and flexible.  Not cheap by any stretch of the imagination.  One day I fell asleep while reading a book and my dog, Peanut, ate my glasses.  Since I couldn't afford new glasses, I spent almost a whole year wearing my Air Force issued BCGs (birth control glasses).  I do think I looked dead sexy in them, though.  Yeah baby!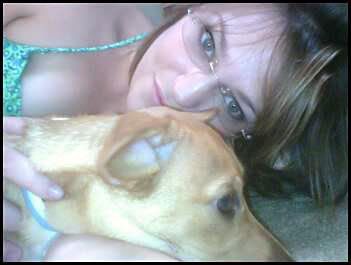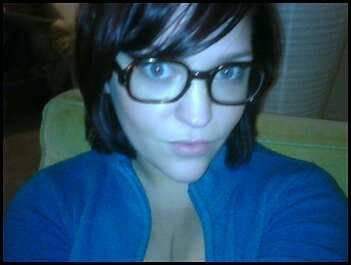 17. Did you ever play "Step on a crack, break your mother's back" as a kid? Well, not only do I obsessively try not to step on cracks on the sidewalk, but when I'm driving, I will "skip" my eyes over large cracks and even shadows on the road.  I can't help it, it's a weird obsession.
18.
In my early twenties I went through a
crazy piercing phase.
 I started with a nostril piercing, then went to the industrial and forward helix.  After that came the nipple piercings, lip, tongue, and finally, the septum piercing.  I already had two sets of "standard" ear piercings as well, the first set awarded to me when I successfully managed to stop sucking my thumb, at the age of nine.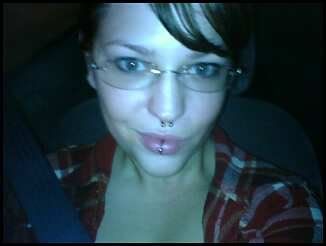 19. My husband has spent many years working the electrical field, wiring buildings and stuff, but when it comes to wiring all our electronics together, I'm the only one who can get it done right!
20.
While living in San Antonio, a friend had to help me break into my car to get my keys, which involved
busting out the little triangle-window
in the back.  I was too broke to replace it, so I let it be.  A couple months later while parked downtown, some jackass decided to break into my car and steal my stereo. BUT! He didn't go through the broken window.  Instead, he broke out the
exact same window
on the other side of my car.  Thanks, dude.
I feel like I was kind of boring today, but I've been preoccupied with blinding hate towards my husband because he broke the only damn sweater I own, that I got at the thrift store all of three days ago.  Dammit.
Link up your Sunday Confessionals below and share with us all the cool truths that make you, YOU!