Hello again everyone!  I hope you are ready for another exciting edition of Sunday Confessional, featuring your host, ME!
21. When I first moved to Minneapolis, my two roommates worked normal, wholesome jobs.  By the time I moved out, however, they were both STRIPPERS.  And yes, I totally got free lap dances from them when I visited their place of business.
22.
In the same manner that I cannot eat corn, I just
cannot eat meat that is still attached to the bone.
 I will seriously waste at least 50% of the meat as I desiccate it.  It's pretty sad, I won't eat fried chicken, ribs or t-bones, and when it comes to whole chickens and turkeys, someone has to cut the meat off for me.
23.
I don't like socks.
 Never have.  There is even a video of me as a child in which I sat on the floor for a full five minutes messing with my winter socks because I did not like the way the ribbing sat across my toes.  I think I passed that trait on to Delaney, who rips her socks off within minutes.
24. I have three main types of dreams.  Dream one involves spiders.  I am always being pursued or attacked by spiders.  The second one involves tornadoes, and me trying to hide from them, and the third one involves lightning.  The lightning ones are by far the scariest, and I am actually fairly convinced that my lightning dreams are seizures.  When I have a lightning dream I am being struck repeatedly by lightning, and I can actually FEEL it: my whole body tenses up in extreme pain and everything goes white.  I usually wake immediately (I assume) with a rapid heart rate and a lot of confusion and fear.
25. I once saw a woman jump off a bridge and get struck by a semi going over 70mph on the interstate.  
Have you ever seen a deer that has been hit by a semi?
 Yeah, people look the same way.  I had the leftovers to my favorite salad in the seat beside me, and after the incident, I could never eat that salad again.
26. And now for some complete and utter embarrassment: I found out in the worst possible way that I had a defect "down there".  A tampon got stuck and after THREE DAYS my mom finally believed me and I had to have a doctor remove it.  Two years later I had a hymenectomy.
27. After Rudy and I got married, we went skydiving.  It was awesome.  Rudy and his best man, Garrett, were terrified, but I was too cool for school.  We want to do it again for our anniversary.  Take a look at the video, it was money well-spent!
28. I'm not a person who usually gets sicks.  When things happen to me, they happen in a big way.  Like cutting my finger off on a fold-out couch bed.  How is this even possible, you might ask?  Well, if you play like "smash" in which you smash your friend between the folds of the bed, there is chance that while the bed falls back to the floor, you reach underneath to catch it and your finger ends up between the joint and gets sliced right off.  It didn't hurt, but I knew instantly that something was very very wrong.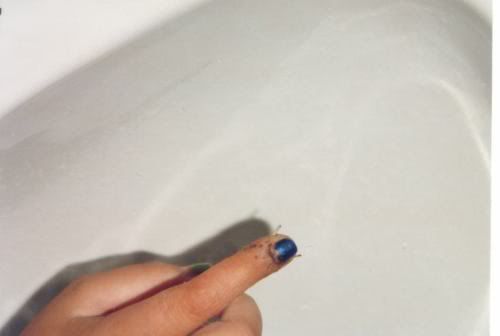 29. I hate baby pigs, piglets. Whenever I see one
I have an inexplicable urge to kick it.
 Now, I've never actually kicked a piglet, or any other animal, but that doesn't mean a person can't want to kick it.  And I do, so badly!  Seriously!  Those stupid little curly tails, smashed up noses and dumb looking feet…who wouldn't want to kick one?
30. Once upon a time I was taking an art class in the same building my dad worked in, and so he would take me home at the end of class because it was the same time he was done working.  One day he completely forgot and left me in the building, and I was literally the ONLY person in the entire building.  Mind you, the building was historic and also once an orphanage that is very much haunted.  I was totally terrified, and once I found a phone it took another five minutes to figure out how to dial out.  Mom answered and as I told her what had happened, she was looking out the window as Dad pulled into the driveway.  Dad saw her and the phone and immediately knew what was wrong, pulled back out and picked me up.  
What a punk.
I really should write these posts in advance, that way I am not posting them so late in the day like I am today, because we were celebrating Afton's birthday with my grandparents.  Oh my baby girl is SO OLD now!
Link up your Sunday Confessionals below and share in the fun!