Hello!
I am so excited to be a hostess of Tasty Tuesdays!
I hope you are just as excited to link up and have fun.
You can bet I am!
We are a force of 10 bloggers who are passionate about food, and we can't wait to see what you're cooking.
As with any party, there are a few rules to follow. They are pretty painless and self-explanatory, but just in case you are new to the party, here they are:
As the good rule-follower you obviously are, you shall reap the benefits of linking up!
Come follow my personal Tasty Tuesdays
board
!
Now, I'm sure you're dying to see last week's features, so without further ado…
|| Roasted Acorn Squash with Paleo Sausage Cranberry Stuffing
|| White Chocolate Truffles
|| Grain-Free Morning Porridge
Give yourself a pat on the back for sharing something awesome, and grab a button while you're at it.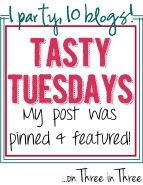 Are you ready to party? I know I am!

Link up your posts below, and if you feel like spreading the good word, grab a button and show off where you hang out!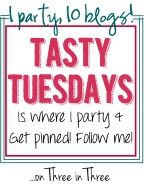 By participating in this link party, you agree to be added to Anyonita Nibbles' email marketing list. As a result, you will receive on average two emails a week from Anyonita: a reminder about Tasty Tuesdays and a weekly RSS feed displaying Anyonita's recent posts. If you do not wish to receive these emails, you can opt-out at any time by clicking the unsubscribe button at the bottom of the email.