It has been a busy week around here!  I haven't been the best commenter, and for that I apologize, but I have been trying to keep up with at least reading or skimming through everyone's posts.  So what's been going on, you might ask?
Well to start, I've been having a massive amount of contractions, but after a thorough checkup and a fetal fibronectin test, we've determined that I am not presently trying to go into labor (woo).  Friday we will find out if my massive belly is due to a large baby or too much amniotic fluid.  Either way, my overly large belly is probably why I am having so many contractions.  My belly hates me.
Rudy and I have been working on finishing up this damn move (it's been what, a month already?), and had GG over a couple of times to help out as well as to just hang out.  We helped them buy a new TV since theirs decided to kick the bucket (we told them it would months ago, ha ha ha), and then helped them get it on the wall, which amazingly took two days to accomplish.  We also got our behemoth of a TV on the wall too.  It makes me very happy, because that damn thing was sitting on a tiny table and I was just waiting for it to fall on the girls, or me, or one of the cats.
We've also spent some time getting acquainted with the gym, which has been a blast.  I think I am going to greatly enjoy my time there, especially after Vivienne is born.
Oh!  And we will finally get a new clothes dryer tomorrow!  I am beyond excited about that.  It was taking over three hours for the old one to dry a normal load, which is ridiculous.  Drove me absolutely crazy.
So, now onto other things!
Delaney was sitting in the living room in the fading light tonight and she just looked…I can't even explain, but I had to take the opportunity to try the full manual mode on my D3000 again.  I had some fairly moderate success this time, much more so than the first time.
I would have to say that the most processing was done using Noiseware Community Edition, because it was definitely a noisy photo to start.  I did do some tweaking in CS5 too, but mostly to brighten it up a bit and pop the eyes.  Progression, please?
The noise is a lot harder to see in such a small photo, but it's definitely there.
Also, it has been more than a week since I first posted my personal face challenge.  So, let us take a look, from Day One to Day Ten.
Day Ten:
Comparison:
I am annoyed at how different the lighting appears in these photos, even though they were taken in the same spot at the same time of day under the same annoying bathroom lighting.  My skin is definitely 100x softer and smoother and I am starting to see some lightening of my dark spots.  I do have an annoyingly apparent blemish on my face, but it doesn't surprise me because it takes usually two-three weeks for the skin to push out all the junk after you've switched products.  I think my skin tone is looking a lot better, too.
And finally, I found this challenge on Mandy's blog, and decided I had to give it a try!  It's an Edit Me challenge offered by Ashley…plus three in which someone submits a photo and everyone gets to take a crack at editing it.  The person who submitted the original photo gets to choose the winner too, which is pretty freaking cool.  So here is the original photo:
Photo Not Taken By Me!
And here is my edit!
Go check out more edits!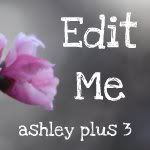 Alrighty, I think that's all I've got for tonight!  Time to feed the heathens and put them to bed.