This day has been a long time coming. Seriously. You know how long that damn button has been sitting up there? It's all sad and lonely.
But not anymore! It's Photo Challenge time!
On Monday

(like today)

I will announce the theme for the week's challenge. On Thursday I will post the link-up for you to start entering your photo challenge submissions. I will also have a little poll for you to vote on the next week's challenge. Then the following Monday I will post the photo challenge winners as well as the photo prompt that received the most votes.
Did that make sense? Ha ha ha. I will break down everything a little more simply on Thursday, plus everything will be listed under that poor, lonely button sitting up there.
Rules? Ugh, there has to be rules, right?
OK, so you have to use my button in your post. This button right down here.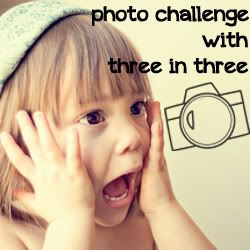 Your photo challenge post must be stand-alone. As in, not combined with another post about something else, or lumped into a large photo post with a ton of other challenges.
Your photo should be newly taken, or taken within the last month. No photos from last winter or two years ago, unless the prompt specifically asks for a photo from the past.
No iPhone photos.

The point of this challenge is to get everyone back into using their real cameras. Even if it's just a point-and-shoot. You can take a great candid pic with a PnS. So get out there and shoot.
Your photo must be taken by YOU. Only one submission per person each week.
Your photo should represent the prompt as closely as possible. Creative license is allowed, of course, but please explain in your post if you take that license, in case I don't get the reference. I can be dense. But on that note, the photo challenges are not restricted to things like just you or your children or family. For example, if the prompt is "children" and you don't have any, you could take a photo of a friend's child, or kids playing in the park. Or even your pet or someone else's pet, because honestly, my pets are my children too.
Please keep your photo on the PG side. I don't mind seeing a baby butt or two, though, so bring it on. Just no crotch shots of your uncle hanging by the pool in a speedo. I do like to keep my lunch in my stomach. Three in Three reserves the right to remove any entrant for any reason.
You don't have to have a blog to enter! If your have a flickr account, you can link up that way! As long as I can click on the link and reach the photo, you can enter it! When entering a photo into a Three in Three photo challenge, you are giving me permission to share your photo on www.mrsthreeinthree.com for the photo challenger winners post. All photos used will be properly linked back to their owners.
OK! I think those are enough rules. They are pretty simple, really. One photo that you take about the prompt and share.
So you probably want to know what the very first prompt is?!?
Self-Portrait!
Of course, I want to see YOU, the person who is normally behind the lens. Show me YOU in all your glory.
Get out there and start shooting, and I will see you all on Thursday when the challenge goes LIVE!