While Mom was here, she and Grandma insisted I try to get a new pic of Afton in Grandpa's hat, because that is pretty much their favorite photo.
So I tried. But of course, while trying to Afton to sit still, the pizza guy arrived.
/photosession
I did get one good photo though.
I really do love it. She looks so innocent and serene. A far cry from her normal, devilish demeanor.
Har har har.
She's changed so much in one year!
Grab a button and link up below, I look forward to seeing your WW posts!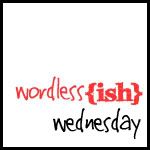 <a href="http://www.threeinthreebabiesg.com/search/label/Wordless%20Wednesday"><img src="http://i101.photobucket.com/albums/m62/kstrand630/Blog%20Design%202/WW2.jpg" /></a>