My family looks at me crazy, and calls me crazy, when I say I enjoy being pregnant. Honestly, I do enjoy being pregnant. You know, during the ten or so minutes when I'm not nauseous, having terrible leg cramps, water-induced indigestion, and raging uncontrollable diabetes and preeclampsia. Oh yeah, and that horrifying bout of food poisoning that left me puking in the bathtub while simultaneously diarrhea-ing everywhere (it was quite traumatizing, seriously), and eventually landed me in the ER.
The fun stuff was feeling Baby move and kick and roll, and it was fun to see people get angry when I told them I had no idea what a rib kick felt like, because I was never kicked in the ribs. I was kicked in the cervix, though, a lot, by all three girls. They're jerks. But, it was also fun being fat, because when you're pregnant, you always look cute no matter how gigantic you are, cause there's a baby in there!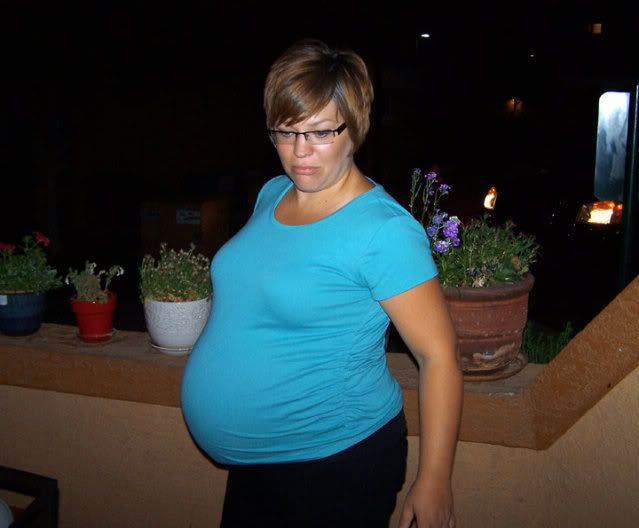 See, cute!
So, at about 6 months pregnant with Afton, I was put on modified bed rest because I developed diabetes fast and my blood pressure went up and neither felt like responding to conventional medicine or me yelling at myself. I swelled up like a dead, beached whale that had been in the sun for a good three days. Even my nose plumped up like a Christmas plum. I had a rib that was killing me, because it apparently couldn't take the stress of my greatly enlarging body (it broke years earlier when I was victim to a hit-and-run beer bottle), and I couldn't find a single comfortable position to exist in. Needless to say I was scheduled for induction at 36 weeks.
Induction sucked. For three whole days I laid in a hospital bed while nurses put little pills on strings up my hoo-haw every four hours and made me lay prone for an hour after each insertion. I stared out the window and watched a giant snowstorm hit the town and I was sad because I wanted to go drive and play in it.
Each day I wasn't allowed to eat because no one knew when I would go into actual labor, until I begged the doctor every night and finally I was allowed a small meal at like…nine pm. Because my blood pressure was so high, I was constantly forced to lie on my side, but all the while I tried to explain that my contractions would actually occur if they let me lay on my back. My doctor almost quit and sent me home, but I put my heels in and said Hell no, I am NOT leaving this place without my kid!
I entered the hospital on the 8th of December, 2008, at six am, and at three pm on the 10th of December, labor finally began. The doctor had started giving me Pitocin earlier in the day and I knew it was going to be trouble because lying on my side was masking my true contractions. The moment the doctor came and broke my water I started having contractions almost every single minute and they were so intense they took the breath right out of me. I had told everyone I was going to do a natural birth, but in that instant I changed my mind and started begging for an epidural. I even forced my husband on a couple of occasions to find a nurse to check my progress so I could have my epidural.
I looooooooooove epidurals. It was great because it was inserted during a contraction, so I felt nothing. And then I really felt nothing. It was weird not being able to move my legs; they were like dead logs made of jello (jello because three days in the hospital made my already swollen-ness triple).
I was relaxed and ready to go, and by seven pm I was pushing. It was weird trying to push when you couldn't really feel anything. And there were three people counting for me at the time, but they kept starting off from each other which messed up my pushing, which REALLY pissed me off. Like, I almost blew a gasket kind of pissed. I was moved into several different pushing positions and I was making progress; the doctor finally joined the group and could feel the head making way.
Things seemed to be going smoothly until all of a sudden I felt like I ripped in half. Through a fully working epidural I felt a pain unlike any I had ever felt before. I instantly started to freak out and cry and I was turned on my back. The doctor started asking questions but I couldn't really answer them and he couldn't figure what was going on, so they pulled the plug on my delivery and prepped for an emergency C-section.
Now, most of the next part comes in bits and pieces, and I am sure I don't remember things as they may have actually occurred, but this is what it was like for me:
There were nurses running around everywhere, and the pain I was feeling was forcing me to push even harder, even though I was repeatedly told not to. I couldn't help it. I am fairly certain I was screaming, but I do distinctly remember calling out Mommy, mommy, help me mommy, over and over again.
I was placed on the OR table and made to sit up, and then to hunch over, because my epidural was going to be replaced with a spinal. I felt absolutely nothing of that, but it was difficult for them and for me, because I kept trying to push, and scream.
Shaking uncontrollably, they laid me back on the table and prepped me for surgery. Within a few minutes I had the scariest experience of my entire life. I couldn't breathe. I was suffocating, and I couldn't get the words out to say I was suffocating because I had no breath to say it. I couldn't focus on anything or anyone because I was panicking to the nth degree. I was certain I was dying. The anesthesiologist seemed to understand what I was trying to convey and held an air mask over my face while telling me I was fine and not to worry because I was breathing.
I think my doctor got Afton out in less than two minutes after I was placed on the table, but it felt like an hour. I couldn't hear my daughter, but I could hear concern from the staff in the room. Afton was purple, and the cord was wrapped around her limbs multiple times. She had an Apgar of 3. I honestly had no idea what was going on, because I was still struggling violently to breathe. Finally I heard her cry, and relief came in a rushing wave. Rudy brought Afton over to me, but I couldn't even look at her because I was still in too much distress. Her Apgar improved rapidly after that and most of the staff and my husband went out of the OR with the baby.
Slowly but surely I was finally able to breathe, and talk. The doctor told me he was uncertain of what exactly happened, but he believed my placenta was tearing. He sent pieces of it off to pathology, where it was confirmed to be such. He told me that feeling something so quickly probably saved my life. I have no idea, I can't fathom it.
I was stitched up and taken to my room, where it was discovered my IV had corrupted. It took three nurses, two hours, twenty failed attempts, and a weird vein-finding light before the anesthesiologist had to be called in to get me a working IV. He was awesome, and got it on the first try, at the bottom of my thumb by my palm. I was so swollen my skin was damp, cracking, and a little weepy.
I was sooooooo over everything. Afton was jaundiced and almost not allowed to leave the hospital, but we finally got the OK on day three. A few weeks later I developed a super gross infection in my incision which had to be opened and drained three times. Yuck yuck yuck. But I had a beautiful baby girl and I was happy.
Thankfully, my pregnancy with Delaney was much smoother. I did develop diabetes again, but my blood pressure stayed in check, and I didn't swell as much. I did, however, have an overabundance of amniotic fluid, which turned me into a pumpkin. I looked 40 weeks at 30 weeks and expanded from there.
I had a scheduled C-section for 39 weeks, and I was terrified of it because of how poorly my first one went. I knew I couldn't handle another breathing problem. So when I brought it up, I was reassured everything would be far better, and it lessened my anxiety, until we got to the OR and it took two people six attempts to get the spinal in place. On one of the tries it literally felt like stars exploded in my left leg, it was crazy! My back is still messed up from all those spinal attempts.
The C-section itself went off without a hitch and I had my second daughter on May 13th, 2010. Delaney had some breathing problems and had to stay in recovery for a few extra hours while I was brought to my room. For the next 24 hours, I drifted in and out of a Benadryl-induced coma as the spinal gave me a crazy itchy reaction. I itched off almost all my skin; it was awful! Then, after I was sent home, I began retaining so much fluid I had to be put on Lasix, and after that my incision refused to fully close for almost two months. Annoying.
Three months after having Delaney I managed to find myself pregnant, again. I was still met with my usual suspect, diabetes, and although I did not develop preeclampsia, my blood pressure was fairly elevated. And since my immune system was still compromised, I was very sick very often, in a non-morning sickness kind of way. I was scheduled for a C-section on the 21st of May, a Saturday. The weekend before that I was so sick that I couldn't eat or drink, I could barely even exist. So on Monday the 16th I had to visit OB/Triage to get rehydrated and given IV zofran so I would stop throwing up. Besides being sick, everything looked great. Vivienne was just hanging out in the uterus doing her thang, and though I was having ten bazillion contractions, my cervix of steel was still solid. No biggie, man, they told me the contractions were from dehydration. Cool.

So I went home and rested and on Tuesday I had my regularly scheduled doctor's appointment. I was having contractions on the way to the appointment, and they hurt a little bit, but I just attributed it to still being dehydrated, so when asked if I wanted my cervix checked I declined, as it was deemed solid just 12 hours earlier and I really didn't enjoy the discomfort of fingers poking around my lady-parts. Apparently I am retarded, though. I went home, and since I was still so tired from lack of real food and liquid, I lay down to rest for awhile. Rudy left to hit some golf balls, and I swear that almost immediately after he left the contractions really kicked in.

Again, thinking they were related to dehydration, I started chugging some water and went to the bathroom to relieve what I thought to be intestinal distress. Not helping. I lay down and try to breathe through the pain, but that was quickly failing. The pain was awful, I mean, it was like nothing I had ever experienced before, even worse than the Pitocin induced contractions, and it stemmed from my c-section scar and seemed to slice straight through to my back. Still in denial, I continued to lay in bed and tried not to die. That didn't last long, though. Soon I was pretty much yelling, screaming, swearing and crying, and completely certain that someone was going to call the police assuming I was being murdered since all the windows were wide open when I finally sent Rudy a text to get his ass home NOW! He called me, asked me what's up and I could barely even speak, so I just cried and told him to hurry.

Back to OB/Triage we went, and we quickly discovered that I was, in fact, in labor, and almost 5cm dilated already. Shock of a freaking lifetime! I honestly could not believe it, even with all the pain. And I was the loudest damn person on the floor, too. I wasn't holding back, didn't know how to hold back! I think I may have even scared my doctor when he came to talk to me and asked if I wanted to try a vaginal delivery rather than do the C-section and I told him in no uncertain terms that he needed to get this thing out of me NOW or I would kill him. I probably would have punched him if I wasn't holding onto the bed for dear life and spewing expletives in every direction.

It took less than two hours from the time Rudy and I left our home for me to be prepped and put into surgery and Vivienne delivered! Just one year and fours day after Delaney. Holy crap.

This time it only took one attempt to get the spinal in (yay!) and I learned that it's definitely my hubby's fault I got pregnant, because my left fallopian tube had been completely destroyed by adhesions and scar tissue.  Crushed like a paper straw. My right tube seemed to be fine, though, so I do still have a chance for more kids in the future (ha ha ha…ha ha ha…).

On the day I was discharged I coughed. It hurt, of course, and caught my attention too, but I quickly forgot about it. That was Thursday, May 19.

By Wednesday, May 25, I could no longer breathe. Over the days I had tried numerous products: mucinex, diurex, salbutamol, and even three lasix pills that I had leftover from the previous year's c-section. I slept sitting up, or at least I tried. But all I could do was gasp for air.

I was advised to go to OB/Triage for tests, and an initial x-ray showed that my heart had enlarged considerably since an x-ray taken in December. I was admitted to the hospital for further testing. With each passing minute I was finding it harder to take a breath, and by the time I was taken to my hospital room a radiologist was waiting to do an echo-cardiogram of my heart. Since I had been in the hospital for awhile already, I was served a tray of food, but once  I got the echo, everything was quickly taken away. Although the tech tried to remain cheerful, I could see the concern as another doctor came into the room and checked over the findings; citing that the right side of my heart was dilated and strained.

Once they left, my doctor came in to see me, and when I saw the expression he had just looking at me, I started to cry. It was pure terror, and sadness. Like something he hadn't seen before. Me lying there, gasping loudly, trying not to die. He told me that what was happening to me was very serious and that it was beyond his expertise. I was going to be sent for a CT and transferred to the critical care cardiology wing where I would be overseen by internal medicine specialists because they were certain I had a pulmonary embolism.
If you don't know what a PE is: a blood clot in the lungs. 

During all of this I was by myself, as my husband had all three girls with him. They were with me originally in OB/Triage, but they couldn't stay as the small intake rooms with curtain doors were no place for rambunctious kids and newborns. After my doctor told me what was happening, he asked me if I wanted him to contact my husband. I nodded yes as I wiped away tears that kept escaping my eyes. I was completely terrified but tried my best to appear unphased by what was playing out around me. If you've ever watched a medical drama, this would be the moment in the show where you know the patient is going to die. I could see it playing out in my head as though I were in Grey's Anatomy. In the meantime, it took four nurses five tries to get an IV started because I was so swollen with fluid that even my one good vein was hiding. On the 5th of June I still had a large, gross bruise on my arm from a failed IV attempt.

Cardiology came and hooked me up to monitors and I was given a large dose of lasix through my IV.

Seriously, never peed so much in my life. And wow did it hurt, because my bladder filled so quickly and my scars were still super fresh. The CT scan itself was very difficult for me as I had to lay flat, and that made me feel like I was drowning. But I survived and was wheeled off to the cardiology unit of the hospital, where my husband, kids, and grandparents were waiting for me.

It was good seeing them, and all the while I had been texting my mom and my best friend Chronic for support from afar. It made me feel better knowing I wasn't alone any longer. I was given a breathing treatment and hooked up to a bunch of monitors while I waited to find out the results of the CT scan. Everyone was praying for me, and in the end all those prayers were answered. The CT scan showed that I didn't have a PE at all, but rather acute pneumonia. The doctors were completely baffled, because pneumonia so serious should have been visible on my x-ray, but it wasn't.

Over the next several days I was given massive doses of levaquin, lasix and mucinex, as well as potassium pills and tylenol. I received breathing treatments every four hours as well, and slowly I was finding myself able to breathe again. I wasn't allowed to leave the hospital until my oxygen levels stayed at 97% or better without being connected to an oxygen tank, which took quite awhile. I missed my baby and my family severely, and hated that I was so sick and couldn't do anything about it, but life always seems to throw me curveballs, and I'm used to it already.

It took a very long time to be able to resume more normal activity. I'm certain that had I not gone into labor while still recovering from the severe stomach flu that this would never have happened, but again, life loves making it difficult for me. It's been almost one year now, and I am still not fully recovered. It's possible that I may not ever fully recover, and that I could develop acute pneumonia as a chronic condition. 

I truly was scared that I wouldn't get to see my baby again.
It was one helluva experience.
But I have three wonderful, beautiful healthy daughters and I thank God every day for them.
Me at the beginning of my first pregnancy, and me after Afton was born.  I looked like John Goodman!
Me during labor with Afton.  You can see the terrible swelling, especially in my hand.
During my C-section with Delaney.  I'm smiling because I can freaking breathe!
Afton on the day of her birth and Delaney on the day of her birth.  I love my baybehs.
Me and Vivienne after her birth.