For the longest time, I had no idea what a truffle was. Seriously. Same thing with truffle mushrooms. Anything with the word truffle and I was like…Nope.
Then one year my aunt Janine came to visit and she brought a bag of truffles from Costco and I was instantly hooked. They were so delicious and they just melted in my mouth.
Chocolate heaven.
Ugh, so good.
Several years later I worked in a really fancy Italian restaurant and one of their signature desserts was a warm chocolate cake that sat atop a thick vanilla sauce. It had a perfect truffle on top and I was hard-pressed to not eat that dessert every.single.day. because it was the perfect dessert. Recently, though, I've been missing those delicious truffles.
So I decided to make my own!
Instead of going the route of a plain, standard chocolate truffle, I dressed mine up with Chambord to make a black raspberry truffle. With this recipe you can make any combination of flavorful truffles, just substitute the Chambord for whatever flavoring you'd like: orange zest, lemon, creme de menthe, congac…the list goes on. Have fun!
Black Raspberry Truffles
8oz Bittersweet Chocolate, Chopped
5oz Heavy Cream
3 Tbsp Chambord
1/2 C Unsweetened Cocoa Powder
1| Heat the heavy cream in a small pot over medium-high heat until it reaches a rolling boil, stirring constantly.
2| Remove pot from heat, then add chopped chocolate and stir until completely melted and mixed together.
3| Stir in the Chambord until fully incorporated and the mixture becomes silky smooth.
4| Cover and refrigerate for 2+ hours, until the chocolate is cold and stiff.
5| Spoon out chocolate and carefully mold into balls, then toss in the cocoa powder until coated.
6| Keep refrigerated until ready to eat and enjoy!
Don't leave your truffles sitting out too long, because they will get soft and quickly make a mess.
You'll get pretty messy just forming the truffles because the ganache is very pliable.
This batch will make around 16 truffles and they are a perfect compliment to a great cappuccino with their dark, slightly bitter taste.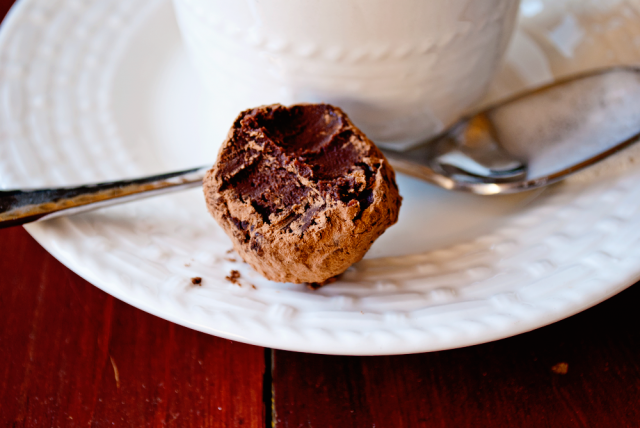 Linking up here, here, here, here, here, here, here, here, here, here, here, here, here, here, here, here, here and here.
Food Blog Search