Now, don't let the word "vegan" scare you if you aren't actually vegan. I'm not a vegan, nor a vegetarian, but that doesn't mean you can't enjoy an easy and delicious vegan meal. I promise it's not scary. In fact, this recipe is so simple you can whip it up in less than 15 minutes and enjoy all the health and taste benefits that this spunky meal provides! Without further ado, I present to you all Raw Tacos!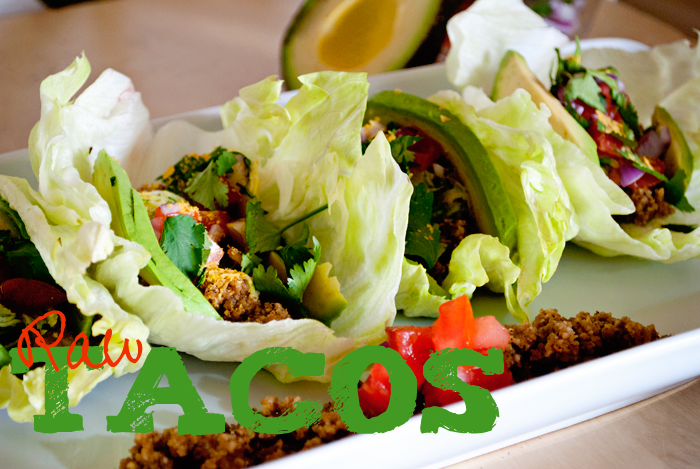 Raw Tacos
Printable Version


2 C raw walnuts
1 large tomato, seeded and diced
nutritional yeast to taste
Thoroughly rinse lettuce, set aside to drain. Place the walnuts in a food processor and pulse until roughly ground. Add the cumin, coriander, chili powder, cayenne pepper, garlic, serrano pepper and olive oil and continue to process until fully incorporated.
Chop off the butt of the iceberg lettuce, then slice the head in half. Gently pull apart the layers to reveal nice cups. Spoon walnut mixture into cups and top with diced tomato, onion, shredded zucchini and chopped cilantro. Slide in a couple slices of avocado, then salt and pepper to taste. Sprinkle some nutritional yeast on top and enjoy!
One thing I must note is that you want to be careful when you are processing the walnuts. I've made this recipe a few times and I really think you will like it better if the nut mixture is more chunky. If you over-process the nut mixture it will be really mushy and combined with the avocado and zucchini it will probably be too much for you. I know it sure is for me and my husband!
Also, if you have
NO IDEA
what nutritional yeast is, that's OK, because I'm gonna tell ya! It is exactly what the name says it is. Yeast. Edible yeast. Basically, it's the vegan version of cheese. It really does taste a lot like cheese. It kind of smells like cheese too. You should be able to find it a whole foods type of store, though I can get it at my local
WinCo
in the bulk foods section, which is pretty much awesome.
I hope you give these tacos a try, because I really think you will like them! Even my manly, meat-eating husband loves them, ha ha ha.