I'm going to be completely honest here, OK?
For the vast majority of my life I've hated all things BBQ. Keep that brisket away and those ribs too. And BBQ sauce? Forget about it.
Pretend I said that like Donnie Brasco, OK? OK.
Anyway, it wasn't until sometime during my pregnancy with Afton that my eyes were opened to the idea of BBQ, and I developed a strong love for some delicious BBQ pulled pork. I love BBQ pulled pork so much that I try it pretty much everywhere I go, and I am always comparing the pulled pork from one place to another, creating a ranking system so I remember where to go to get the best stuff.
I recently received the opportunity to try the new BBQ Pulled Pork Sandwich at Togo's. Was I ever in for a bit of deliciousness! Just check out this beauty: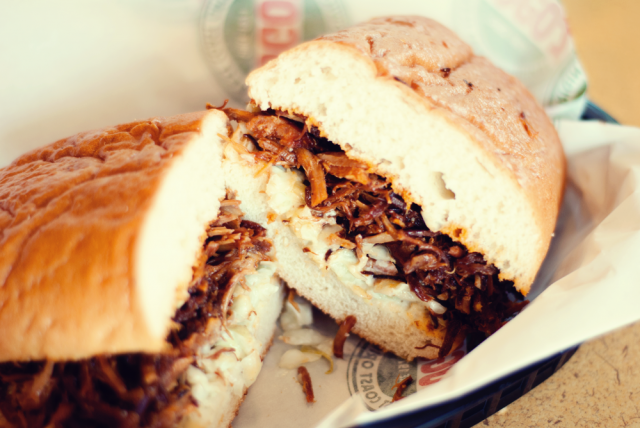 I couldn't wait to sink my teeth into my sandwich and get my BBQ on. I took the girls with me, so I had to get them all situated first. And take pics too, obviously.
Like this: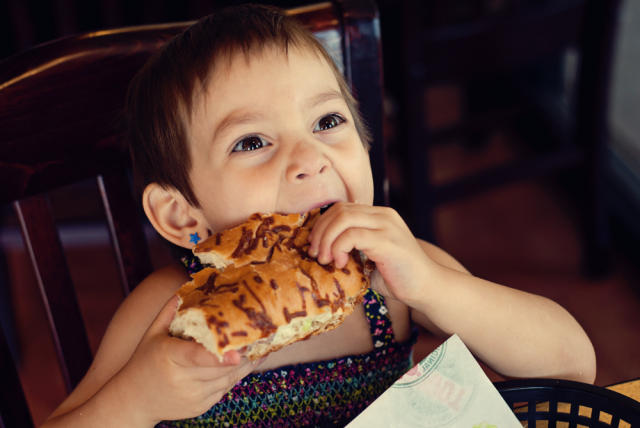 And this:
If you live in Phoenix, you can find Togo's off Guadalupe and McQueen (Mesa Dr.) in Gilbert. It's a nice building in a nice area, and Togo's itself was very clean and tastefully decorated. I had no problem reading the menu and was able to pick out sandwiches for the girls rather quickly. The staff was pleasant and helpful, and spoke loud enough for my deaf-self to be able to understand what was being asked of me.
You have no idea how annoying it is to interact with someone who speaks timidly when you really, truly, cannot hear!
Our sandwiches were prepared quickly and with care. No ingredients spilling out all over the place, ready to mess up your hands, clothes, hair, face, whatever. I was also pleased that they didn't slop on the sauce like it was a mayo sandwich with a side of meat. I hate that. In this family, we like to taste the food, not just the sauce. Otherwise, what's the point, right?
So, once I finally made it to my own sandwich, the
BBQ Pulled Pork Sandwich
, I was practically drooling on myself.
I came hungry and ready to eat.
I really enjoyed my sandwich. The pulled pork wasn't overly fatty, and it was juicy without needing a bib to catch the drippings or sog-down my bread. I'm not a big fan of wet bread. The sauce was mild and just a tiny bit sweet, which is pretty much my favorite. And underneath all that pulled pork goodness was a thick layer of creamy, crunchy coleslaw. The flavors and texture of the coleslaw complimented the pulled pork and almost made me giggle with glee.
Yes, I do giggle at my food sometimes. Food makes me happy.
No, I don't think that's weird at all, why do you ask?
I tend to be a slow eater, but I managed to plow through my entire BBQ Pulled Pork Sandwich before the girls even hit the halfway point of theirs!
This was all that remained: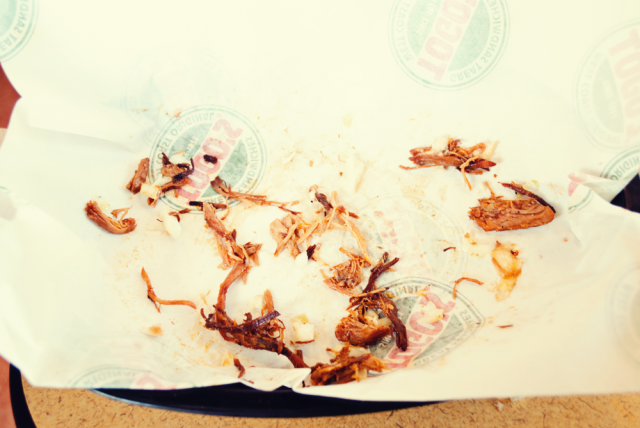 OK, you caught me, I totally lied. As soon as I took this photo, I put down my camera and snarfed the rest.
So yummy.
As a self-proclaimed connoisseur of all things pulled pork, this sandwich gets two thumbs up.
If you live on the West Coast, you definitely need to hit up your local Togo's and get your eat on.
Don't know where your local Togo's is? Just use their locator!
The BBQ Pulled Pork Sandwich won't be around for long though, so don't miss out and visit Togo's today! Then come back and tell me how you liked it!
Although I was compensated with a gift card to try the BBQ Pulled Pork Sandwich at Togo's, all opinions are 100% my own. Thank you, Togo's, for sponsoring this post.