A couple of months ago, I shared this recipe over on Amanda's blog, and I thought I should go ahead and post it over here as well!
Summer may be winding down, but when a hot day hits (or a scorching hellfire week like we experience down here in Phoenix), this is the perfect dinner to prepare.
I'm talking about this bad boy: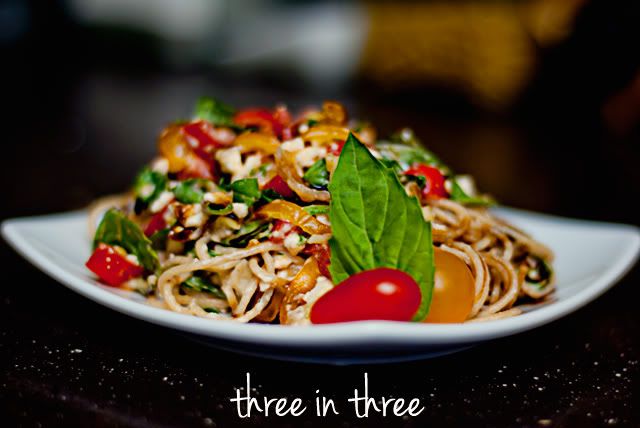 Bruschetta Pasta!
Seriously, you guys, this recipe takes all of
15-20
minutes to make from start to finish.
What you need:
8 oz. Thin Spaghetti noodles
1 cup Cherub Tomatoes, chopped
1 cup Sunburst Tomatoes, chopped
1 cup fresh Basil, chopped
1 cup Feta, crumbled
1/4 cup Olive Oil
Kosher Salt and Ground Pepper, to taste
1 cup Balsamic Vinegar, for reduction
Pull out a saucepan and add the balsamic vinegar. Turn the heat to medium and let the vinegar simmer so it slowly reduces in liquid. The reduction takes the longest, so you want to start that before everything else. Optimum thickness would be to the point where it coats a spoon in a manner similar to melted chocolate, or just a little thinner.
After you start reducing the vinegar, throw a pot on the stove full of water and heat to boil. Once boiling, follow the cooking directions on your package of noodles.
While the water is heating up and boiling and the pasta is cooking, you can prep the rest of the ingredients! I really recommend the cherub and sunburst tomatoes, because they are tastier and meatier. If you can't find those, campari tomatoes are great as well. I wouldn't use roma tomatoes though, because they are mostly water and seeds.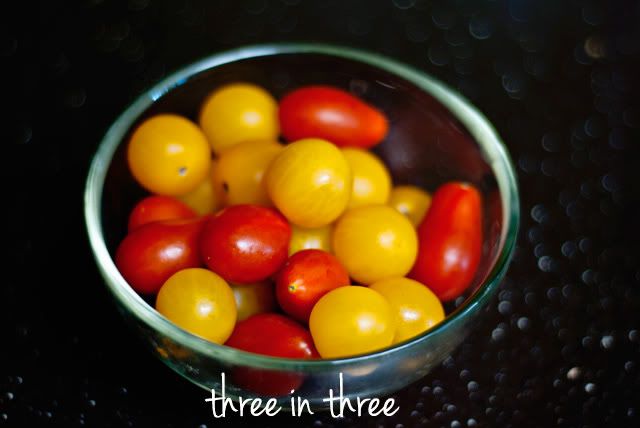 Chop up about 1 cup of cherubs and 1 cup of sunbursts and toss them in a bowl with the chopped basil and the feta and keep it on hand, because that pasta will be ready pretty quick!
Once the pasta is done, drain it and return it to the pot. Toss in about 1/4 cup of olive oil and toss with a few dashes of salt and pepper. Then throw in the tomatoes, basil and feta and toss a second time to get all the ingredients fully incorporated. Adjust the seasoning as needed and start dishing out the goods.
Wait, did I forget about the balsamic reduction?!
Once you get that pasta on a plate, take a table spoon and scoop up some of the balsamic reduction and drizzle it over the top of your pasta. You don't need a whole lot, but if you're like me, you're gonna love a good tablespoon or more on there. So yum.
In the end, you get this!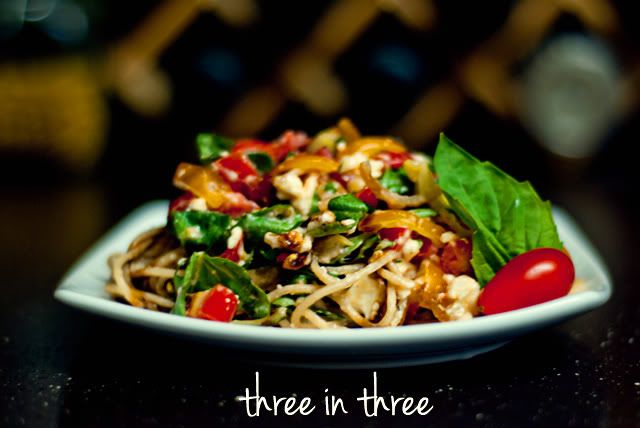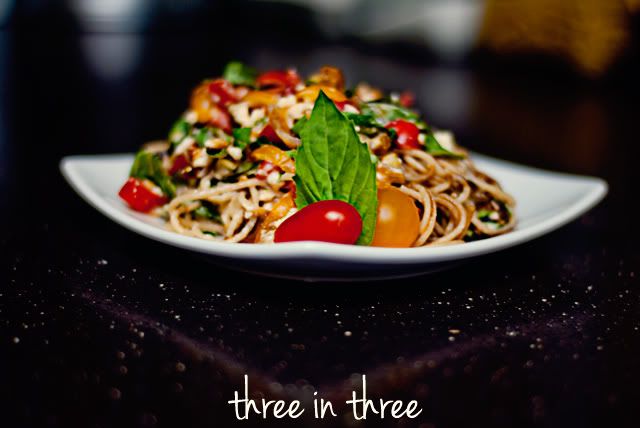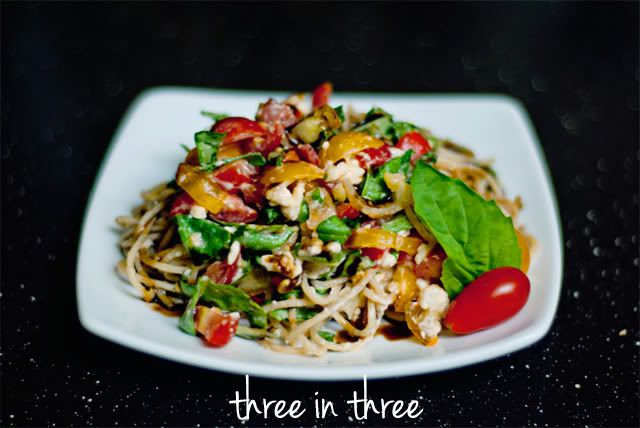 I hope you guys give this recipe a try, and if you like it, let me know! You can also check out some of my other
recipes
, or give me a holla! on
twitter
or
facebook
.
Enjoy!