Friends and family alike have been telling me about the snow that has started to fall and how sad they are that winter is coming. As a Phoenix resident, I would love to see some snow. Please, weather gods, dump a foot of that awesome white stuff right on top of me head. I'm a Minnesota girl at heart.
But in the meantime, to make the weather a little more bearable, how about we revisit this spicy, fun soup, perfect for warming the soul!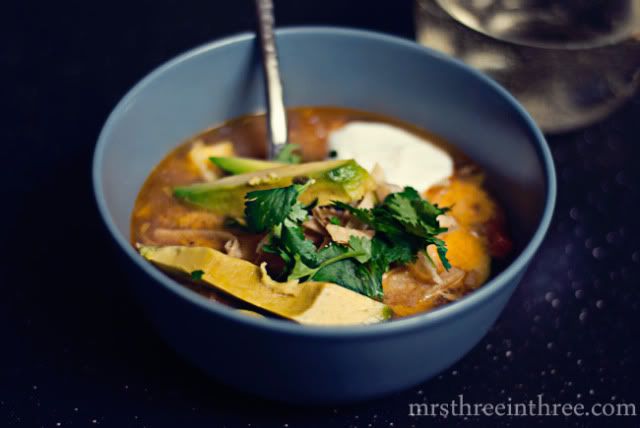 Karly's Totally Rad Chicken Tortilla Soup
Ok, you can just call it Tortilla Soup, but I really like it with the Totally Rad in front. Yup. Cause it's rad, like totally.
Ingredients
1.5lbs

Boneless, Skinless Chicken Breasts

2 Tablespoons

Olive Oil

1-½ teaspoon

Cumin

¼ teaspoon

Cayenne Pepper

2 teaspoons

Garlic Powder

1 Tablespoon Kosher

Salt

2 teaspoons Black Pepper

½ cup Long Grain White Rice (not instant rice)

1 cup

Diced Red Onion

1 Whole

Diced Yellow or Orange Bell Pepper

1 Whole

Red Bell Pepper

2 cloves

Garlic, Minced

2 cans

(10 Oz. Can) Rotel Diced Tomatoes and Chiles, one Hot, one Mild

32 ounces

Chicken Broth

3 Tablespoons

Tomato Paste

4 cups

Hot Water

1 can

(15 Oz. Can) Black Beans, Drained

3 Tablespoons

Maseca (or cornmeal)

2 Large Zucchini, sliced and quartered

1 bag Crispy Tortilla Strips or 5 corn tortillas sliced into strips and fried in oil
Preheat oven to 375 degrees. Mix cumin, cayenne pepper, garlic powder, kosher salt and pepper. Drizzle 1 tablespoon olive oil on chicken breasts, then lightly coat chicken with half of the seasoning and pat down with hand.
Place chicken breasts on a baking sheet. Bake for 20 to 25 minutes, or until a meat thermometer reads 165 degrees. Use two forks to shred chicken then set aside.
Heat 1 tablespoon olive oil in a pot over medium high heat. Add rice and cook, stirring occasionally until the rice begins to toast, about 5 minutes. Add onions, red and yellow pepper, and minced garlic. Stir to combine, cook for about 1-2 minutes then add the remaining seasoning and stir. Add shredded chicken and stir.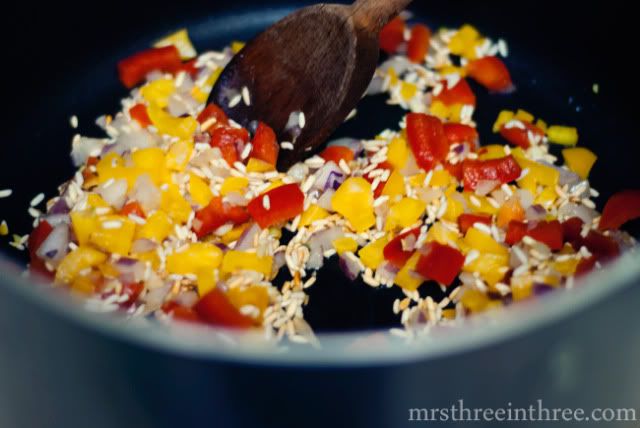 Pour in Rotel, chicken stock, tomato paste, water, and black beans. Bring to a boil, then reduce heat to a simmer. Simmer for 40 minutes, uncovered.
Mix Maseca with a small amount of water. Pour into the soup, then simmer for an additional 20 minutes. Check seasonings, adding more if needed. Add the cut zucchini and simmer for 10 more minutes. Turn off heat and allow to sit for 15 to 20 minutes before serving.


Ladle the soup into bowls and top with crispy tortilla strips, cilantro, monterey jack cheese, diced red onion, sour cream and avocado. Garnishes are very important you guys, they are awesome!






A side note:
This is a spicy dish. If you like a milder version, substitute chili powder for the cayenne pepper and use two cans of regular or mild rotel instead of one can hot and one can mild.






This recipe is an adaptation of The Pioneer Woman's Chicken Tortilla Soup. To see the original recipe, go HERE.