Christmas is over and slowly we will get back into the groove of our everyday lives.
I hope everyone's Holiday was filled with love, joy, family and faith.
Please tell me about it!
Christmas for me was all about the traditions I experienced as a child, and being able to recreate them for my own children.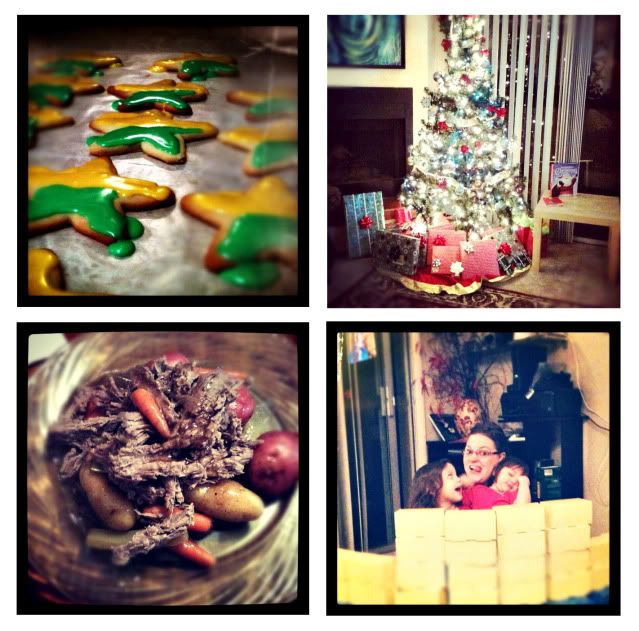 So I baked, and decorated, and wrapped, and cooked, and played, and danced, and listened to Christmas music as much as I possibly could.  I wanted it to be as positive as I could make it, because it has been such a hard time for us.
Living in a poor neighborhood, I am frequently aware of people begging for favors and those who aim to cheat the system.  You become accustomed to being wary of everyone and what they do and do not have, and learn a keen sense of belonging to one class or another.  It's sad, but it's true, and it's why I always do my best to appear "above" what my actual status is presently.
Over the past few days, Christmas Eve and Day included, I've seen the same man picking cans out of the garbage bins in our complex with his very young daughter.  Normally I wouldn't think twice about it, because there are always people picking through the trash for cash-able goods, but I realized that the girl was wearing extremely over-sized and ratty pajamas every single time, and appeared to be unclean and rather…wild.
It was in that moment of understanding of their situation that I realized a couple of things. One, that is so easily could have been me and my daughters picking through trash, and two, that it wasn't.
And I was thankful, so very thankful.  Thankful for friends and family, thankful for support and love and trust. Thankful for my healthy babies, warm beds and hot showers and food.
Thankful, that even though I am new in my knowledge of God, that He is listening and providing for my family and me.
And even though we live with little, I am thankful for our creativity to provide each other with meaningful gifts this holiday season.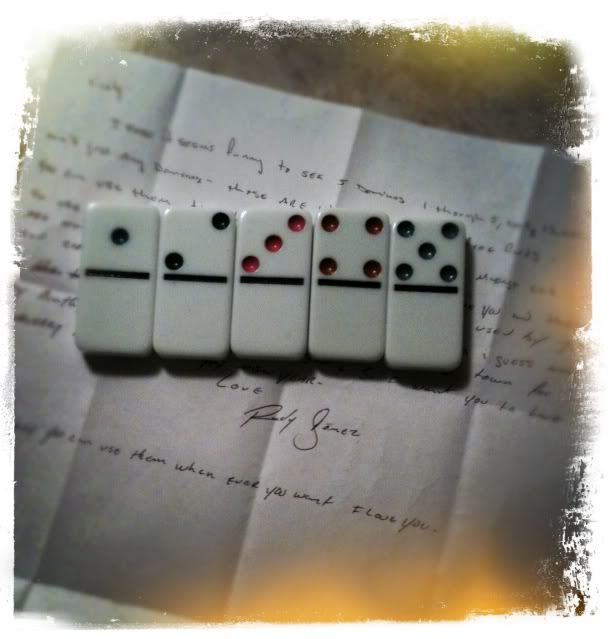 From my husband: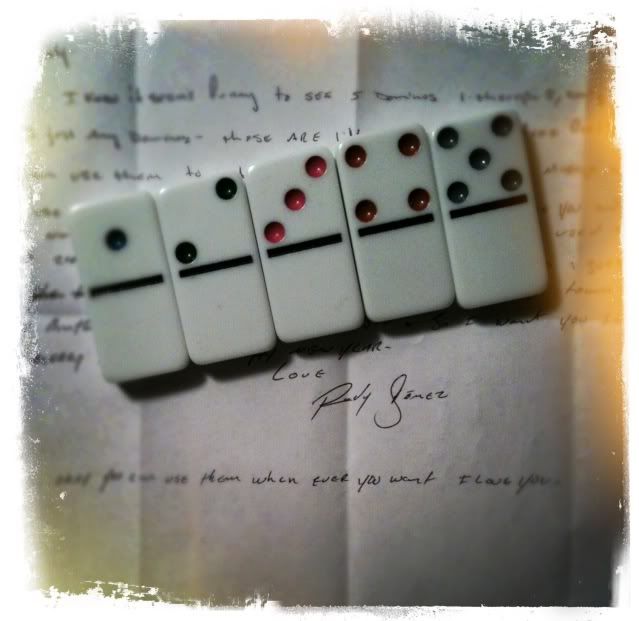 Karly-
I know it seems funny to see 5 dominoes 1 through 5, but these aren't just any dominoes- these are like Get Out of Jail Free cards.  You can use them to get out of dishes, the kids, get a massage even…so use them wisely.  Merry Christmas Sweetheart, I love you and these are not valid until after the New Year and must be used by January 2nd, 2012, so you better get to using them.  So I guess now is a good time to tell you I'm going out of town for my birthday (he's a NY baby) and will be back January 3rd, so I want you to have a Merry Christmas and a Happy New Year.
Love,
Rudy Gomez 
PS – Okay, you can use them whenever you want.  I love you.
Thankful.