Any carboholics in the room?
You know I'm one. Bread and pasta and all things sugar are the bane of my existence.
But this superhero doesn't shy away from her kryptonite, oh no, not her.
She dives right in and devours it until it disappears completely.
Take that, carbs!
I shall call her: Carb Girl.
Yeah, I know, I am suuuuuuper creative. Like whoa.
So today I am sharing one of my favorite bread recipes: homemade rosemary and olive oil bread. It is simple to make and is great with pretty much any dinner, though the flavors are more along the lines of an Italian dish. Also, it's great for snacking. Just rip a chunk off and tear into it like it's nobody's business. Cause really, it's nobody's business.
Yum.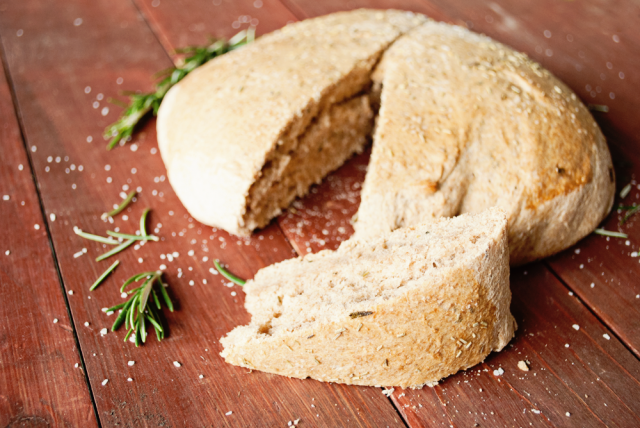 In general, I stick to using the dough hook on my Kitchenaid, but when I'm having a rough or angry day, you can bet your booty I'll be working those issues out on my dough. Just follow the directions as is, using the Kitchenaid instead of a spoon and your hands.
You are also more likely to undercook than overcook this bread. I've done it probably 20 times already. Just be patient and wait for it to get fully brown all over, otherwise the inside will be doughy. No one likes doughy bread.
This bread smells so good you'll want to eat it all instantly, but like my daughter, Afton, says, sharing is caring.
But, if you do eat it all before anyone sees, be sure to destroy the evidence!
Or, you could always make another loaf.
Ingredients
1

C

Warm Water

100-110 F

1

Tbsp

Sugar in the Raw

2

tsp

Active Dry Yeast

1

tsp

Kosher Salt

2

Tbsp

Fresh Rosemary

chopped (or 2 tsp dried)

Dash of Garlic Powder

Dash of Dried Oregano

Dash of Dried Basil

Dash of Black Pepper

2

Tbsp

Extra Virgin Olive Oil

1 ½

C

Whole Wheat Flour

½

C

Bread Flour + extra for kneading

1

Egg

whisked + 1 Tbsp Water, for egg wash

Dried Rosemary and Kosher Salt

for sprinkling
Instructions
In a large bowl, combine the warm water, sugar, and yeast. Let sit 10 minutes to proof.

Combine the salt, rosemary, garlic, oregano, basil, pepper and whole wheat flour in a bowl, then add to the yeast mixture slowly. Pour in the olive oil as you are stirring, then slowly add the bread flour and stir until the dough forms a ball. Knead on a lightly floured surface for about 5 minutes, adding more flour as necessary to prevent sticking, until smooth.

Place the dough in a lightly greased bowl; cover; and let rise until doubled in size, about 1 hour.

Punch down the dough and form it into a round loaf. Place it on a cornmeal parchment paper or thin cutting board; cover; and let rise until doubled in size, about 45 minutes.

Meanwhile, preheat oven with a pizza stone to 400 degrees. Once the dough has risen, gently brush the top with egg wash and sprinkle with the dried rosemary and kosher salt.

Bake on preheated stone for 20-25 minutes until the top is golden brown and sounds solid but hollow when tapped.