Now that Autumn is in full-swing, I really enjoy breaking out some hearty favorites that don't take forever to put together.
As the days get shorter, it seems like they fly by at break-neck speed. There is never enough hours in the day to get everything done! So I really hate spending more time than I have to put a meal on the table.
Enter this fun and delicious pasta dish. It features the rustic flavors of lamb and rosemary, cooked into a deliciously peppered tomato stew. I just made this a few days ago and writing about it makes me crave some more. Time to break out the leftovers!
If you have aversions to lamb, you can easily substitute ground beef, just be sure you use the very lean stuff!
Lamb Pasta with Rosemary & Zucchini
2 Tbsp. Olive Oil
1 Large Onion, diced
1 1/2 Tbsp Fresh Rosemary, minced
3/4 lb. Ground Lamb
Kosher Salt
Fresh Ground Black Pepper
1/3 C Dry White Wine
2 Cans Petite Diced Tomatoes
2 Zucchini, quartered and sliced
12 oz Rotini Pasta
1/2 Tbsp Fresh Basil, minced
3/4 C Feta, crumbled, plus more for garnish
1 | Warm the olive oil in a medium-high frying pan, then add the onion and rosemary and saute until the onion is tender and translucent, about 5 minutes.
2 | Add the lamb, sprinkle with salt and pepper and cook until no longer pink, about 5 more minutes.
3 | Add the wine and boil until absorbed, then add the tomatoes, juice included and bring to a boil.
4 | Mix in the zucchini, then reduce the heat to medium-low and allow it to slowly boil for at least 10 minutes, or until the sauce is nice and thick. Stir occasionally.
5 | In the meantime, bring a large pot of salted water to a boil, add the pasta and cook until al dente, following the instructions on the package.
6 | Drain the pasta, then add it to the sauce and toss to coat.
7 | Mix in the basil and cheese, stir to combine, then serve, with a garnish of crumbled feta on top.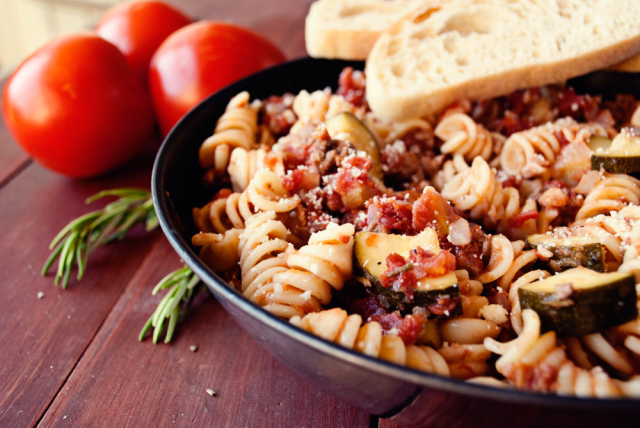 This dish is a hit with my whole house, kids included! I hope you give this recipe a try; let me know how you like it! And if you're looking for more, check out these
recipes
as well!