This is a hard post to write.  But it needs to be done.
It's hard because it's something I've only talked about maybe twice.  The second time only being a few days ago on another blog where the issue was brought up.
I am an Almost.
Self-portrait, Summer 2003
This is my story.
Growing up, there weren't many children in our neighborhood, so I often found myself playing with an effeminate boy a few years younger than I, P.  P had two brothers, one was a couple years older than me, L, and the eldest was probably in junior high if not high school, R.  I would always hang out with P, because he had the coolest toys, and since he was pretty much ten times girlier than I, I could count on some great girl play.  Every now and again L would join us, because some games are no fun with only two people, and one of our favorites was Hide-and-Seek.
Now, I was probably
seven years old
when we played H&S one day, and I was determined to win.  I ran upstairs and climbed into the top bunk of the bunk beds and lay down as flat as I could.  I knew no one would ever find me, because I was awesome.
I was wrong.
R showed up, and saw me on the top bunk.  I quickly tried to shush him and told him to go away before he gave away my hiding place.  I remember him laughing and climbing up onto the bunk with me while I protested.
He said he would hide with me, help me hide, because no one would see me with him in the way.  I thought maybe this was a good idea.
I was wrong.
He began to press me up against the wall, to the point that I could barely move.  Then
he told me
that we were a bit uncomfortable and
that we would be seen, unless I pulled down my pants.
I have to stop for a moment, because writing this makes me go a little weak; makes me want to vomit a little bit.
I started protesting again, because I was a kid, I was seven, and cooties were a very real thing to me.  But he insisted, and he began grabbing at my pants and trying to pull them down, in the name of Hide-and-Seek.
I was trapped, I couldn't move, and I certainly wasn't strong enough to combat a teenager.
  But just then, L showed up and found us, and I took off.
I was almost molested that day.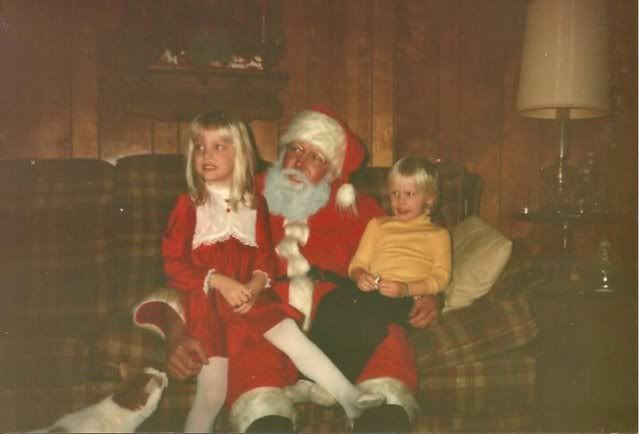 Me, as a little girl.
And you know what?  I never told anyone.  I didn't tell my parents, friends, relatives.  No one.
Scarier still is the fact that I didn't even realize what almost happened to me until I was in my twenties, and I was randomly thinking back to my early childhood and that day popped into my head.
When it did, I threw up.  I couldn't believe it.  For so long I had forgotten about it, probably because I didn't know what had almost happened.
Did I know about the difference between good touch/bad touch at that age?  I have no idea, I don't remember.  And it could very easily be the reason why I never told anyone, because I didn't know it was something that should have been said.
The therapist inside me thinks I unconsciously knew all along, and allowed the incident to shape my dysfunction with relationships and my distrust in others, especially men.
My husband doesn't even know about this, and I still probably won't tell him.  I probably won't tell my parents, either, because at this point, there is no reason in harming their memories of my childhood.  I don't want them thinking about what they could have done to protect me, because there wasn't anything anyone could have done to prevent it from happening in the first place.
But now I look at my girls and I'm scared.  Scared that it could happen to them.  Scared that they could become an Almost, or something far worse.
How do you even begin to teach a child the difference between what's appropriate interaction and what's very very bad? How do I ensure that they are comfortable enough to talk with me about these things so that I know they'll come to me if something happens?  It makes me sick to think that I have to ruin a bit of their innocence just to protect them from being completely shattered by a sick and twisted human being.
My memory shattered me, and I was just an Almost.
So let's protect the kids, so we can find a way to keep them from being victimized, because statistically, you are far more likely to be attacked by someone you already know, just as I once was.