OK, I have a confession.
I am completely obsessed with Pinterest.
When people first started talking about it, I took a look and thought:
What is this crap? Why do I want to look at pictures of stuff I know I will never have? Is this some kind of twisted torture device?
Seriously, I totally thought that. But then, I took a second look, a longer look, and I realized it was something else entirely.
So of course I hate it even more, because

I can't escape it's addictive grasp!
The other day I was looking around for some taco seasoning recipes, because I always, always, always forget to buy a packet when I'm at the store.

Always!

But, needless to say, the recipes I found were so bland I could have skipped seasoning all together.
So I made my own damn seasoning, and it's good! Ha!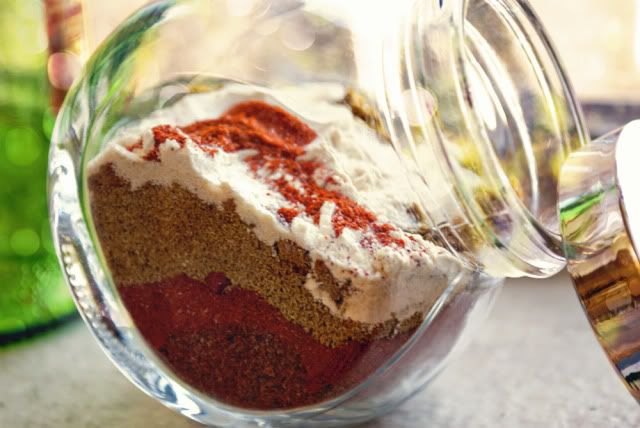 This is a spicier mix, so if you prefer something a little more bland, reduce the garlic and pepper, otherwise this is totally the way to go!
When cooking, for 1 lb. of ground beef you should use 3 heaping tablespoons of the spice mixture. In the same nature as store-bought spices, mix it with about 1 cup of water, heat to boiling then reduce heat and simmer until the water has dissolved. If you like a more "saucy" outcome, mix about 2 tablespoons of flour or cornstarch in with the water to form a rue with the spices.
Or, as my Mexican husband suggests, use 1 cup of water and one small can of tomato sauce with the spices. Either way it's delish!
There ya have it folks.
Instructions
Combine all ingredients in an airtight container, shake to combine.