Breakfast is the best meal of the day, hands down. It doesn't even have to happen in the morning, that's how awesome breakfast is. I am all about the eggs, bacon, hashbrowns, toast, pancakes, mimosas and everything in between. When it comes to breakfast, however, sometimes it seems like there are only so many ingredients to work with before a meal turns into something else, like lunch. Lunch is so uncool. So I try to get creative without going too crazy, because I don't want to destroy the integrity of breakfast, but I also don't want to get stuck inside the same old breakfast box. This is where my mini grilled and stuffed French toast comes into play!
As per usual, this dish was inspired by my children, well, the mini part, anyway. They're young, and have small hands, so the idea of making mini French toast was definitely a lightbulb moment for me. Yes, I do take pride in that moment, ha ha ha, it's a big deal for me!
I used French demi baguettes for this dish because they are just a little bit thicker than the long baguettes, and a little bit softer. I sliced them thin to make them easier to cut and eat once they were stuffed and grilled, and filled them with a mixture of cream cheese and raspberry preserves, to lend it just a touch of creamy sweetness without going overboard. The French toast itself is the hero of the dish, the filling is the trusty sidekick.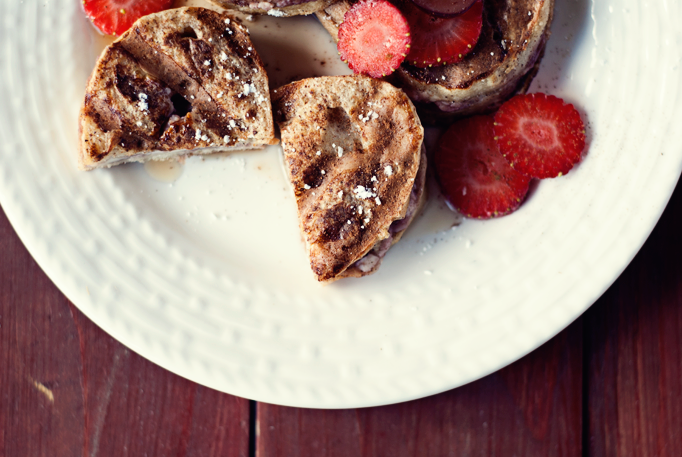 This recipe is easy to work with and can be adjusted depending on what you have on hand. Use some Texas toast, or throw some Nutella all up in there, it's all delicious! The only thing you really have to watch is the temperature you use for cooking. I grilled mine at about medium-high because they are small and thin, so they cook through quickly. If you use Texas toast, or another thick bread, you'll want to turn down the heat to medium so your French toast has time cook without burning on the outside.
Nobody likes burnt toast.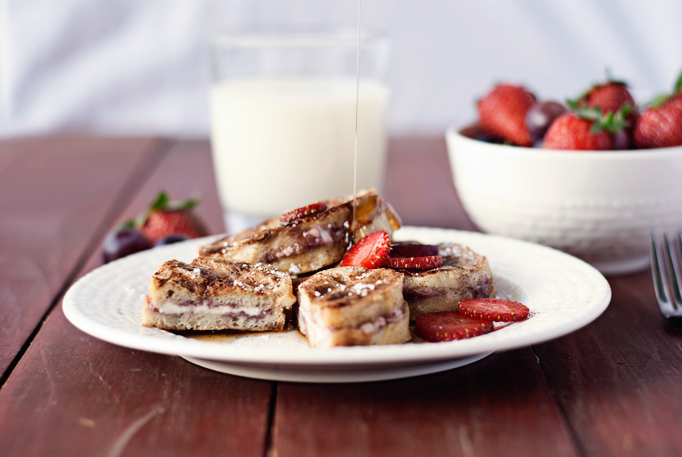 Serve these babies up with some warm maple syrup and fresh fruit and your mouth will be thanking you for days!
Get the full recipe by viewing my post over on The Best Blog Recipes!