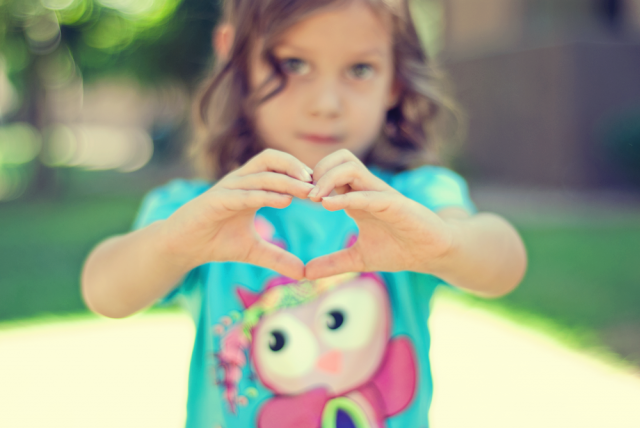 A is for: Afton. Initially, I really wanted to name her Evelyn, so I could call her Evie, like the character from The Mummy. Love that movie. Rudy didn't like the name and I pretty much hated every name he came up with. I eventually landed on Afton, which is a teeny tiny township off the St. Croix River, a place I have always loved. Rudy came up with her middle name Carrolena. You have to roll your tongue on the double-R. It works well; Afton Carrolena Gomez.
B is for: Ballerina Bunny. My mom got her the cutest little ballerina bunny, and right in the middle is a little red heart with an A for Afton. Delaney and Vivi each have one with their initials too!
C is for: Candy. This kid takes after me with her love for all things sweet. It's a curse, really.
D is for: Daddy. This girl loves her Daddy to the moon and back. It's always "Daddy this" and "Daddy that". I think they have a secret club and their meeting take place on the drive to school each morning.
E is for: Ears. The girl's got some big ears, yo. Just like her Momma.
F is for: Friendly. I don't know another kid as open and outgoing as Afton. She makes friends instantly and is constantly clamoring to play with everyone and every thing. She says Hi to strangers and giggles with delight when they say Hi back.
G is for: Grapes. Have you ever peeled a grape? Or seen a peeled grape? Afton will sit there and peel all her grapes before eating them. It is weird to watch.
H is for: Helper. Afton always wants to help with everything. She wants to make the dinner, she wants to give me the dishes to put away, she wants to put the clothes away and she wants to water the plants. She also reaaaaaaally want to help me make dessert.
I is for: Island. Did you ever play that game growing up where the floor is hot lava and so you had to hop on pillows and couches in order to not die? Yeah, Afton plays it too, and no one taught her it. It must just be a game kids are born knowing how to play.
J is for: Jam. Afton far prefers Red Raspberry Jam to the more traditional Grape Jelly. She also enjoys her jam on a nice, hot grilled cheese sandwich.
K is for: Kitties. Oh my Lord, does Afton ever love kitties. They are pretty much her constant obsession. She cuddles with them, plays with them, collects them into their room for the night. She watches them eat and puts them in their cat tree to play.
L is for: Love. This girl loves and loves hard. It's so sweet. But it's also incredibly heartbreaking when someone or something makes her cry. She's a very sensitive soul.
M is for: Meat. Well, I should be more specific and say bacon. Bacon is awesome and Afton agrees!
N is for: No. Probably the only word that matters in Afton's vocabulary. She uses the word a lot, especially when her sisters steal toys from her, or when she doesn't want to eat something. Like tomatoes. NO TOMATOES MOMMY!
O is for: Ole! Although she looks as white as I, she's actually 50% hispanic, thanks to her father. She's learning to speak Spanish from Rudy and I, as well as at school!
P is for: Play Park. If you've seen as much Dora as we have, you know what play park is. And to Afton, everything fun is play park. If there is one place she would want to be right now, or ten minutes or ten days from now, it's play park.
Q is for: Queen. We have a blanket that has a nap to it, and Afton will wrap it around her shoulders and neck and declare herself a queen. Because obviously, she is older and therefore of a higher rank than her princess sisters. Obviously.
R is for: Rain. We get so little rain down here in Phoenix that whenever it rains, Afton is plastered to a window watching it. She loves rain and thunder and lightning and dust storms.
S is for: Sleep. I think Afton takes after Rudy, because she seriously requires very little sleep in order to function. It's kind of annoying, because I require far more sleep, but she's always up, asking to go to the bathroom or to feed her cereal.
T is for: Time. I really need for Afton to understand the concept of time. She takes FOREVER to eat her food. Mom would say this is what I get, because I was notoriously slow. BMT cured that real fast!
U is for: Ultraviolet Rays. This girl tans like it's nobody's business. It must be the hispanic in her. Or the Cherokee. I tan well too, but Afton is truly a Golden Goddess.
V is for: Vexed. It's so funny, recently Afton has taken to expressing emotions that she's learned about in school. In particular, she likes to declare how frustrating everything is. And she does this with a stomp of her foot and a massive grunting sigh. Be easier, things!
W is for: Water. Afton is a waterbaby. Loves water. But lately she hasn't wanted to go swimming because we are trying to teach her to swim without her floaties. She can totally do it, but she screams so much she doesn't even realize she's actually swimming. Ugh.
X is for: Xylitol. BAM! Totally works, because we use xylitol in Afton's cereal or in a water rinse because it inhibits bacteria from sticking to teeth, helping to prevent tooth decay!
Y is for: Yesterday. Along with the whole needing-to-understand-the-concept-of-time thing, pretty much everything happened yesterday. Even if it was two minutes ago. It happened yesterday. If it's going to happen two hours from now, it's still yesterday. It's Yesterdayland in this house, no matter how many times I correct her!
Z is for: Zucchini. Pretty much the only vegetable Afton likes. She'll be certain to make you aware of that truth.
Next week I'll share the ABCs of Delaney!